4 Tips for Mixing Tones and Textures in Your Home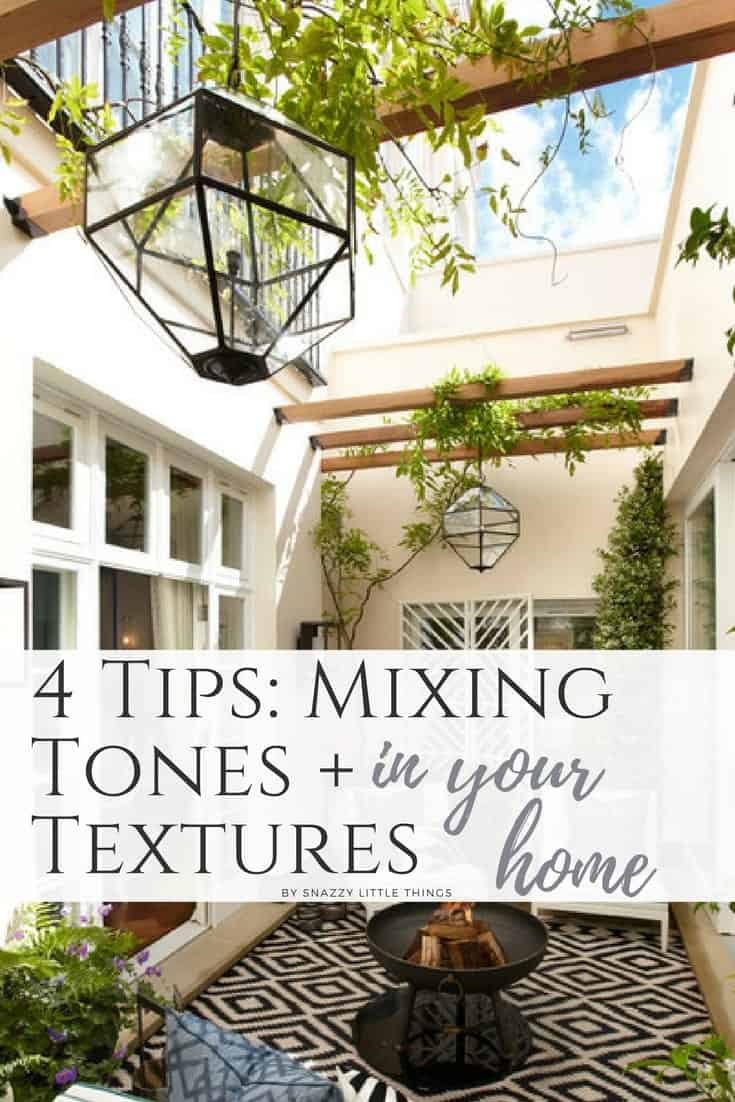 They say that home is where the heart is, and while it's cliché — it's true. From modern to shabby chic, various home styles and trends appeal to different individuals. When designing the interior of your home, you must ask yourself what home looks and feels like to you, personally.
Introducing tones and textures into your house help make it into a home, but how do you mix these without your decor looking hokey or too busy?
4 Tips for Mixing Tones and Textures in Your Home
#1 – Make a Swatch Grid
When you see a tone or texture at the store or online, take and save photos into a swap file on your computer, and make a collage to reveal how the pieces interact in a swatch grid. You're essentially making a vision board for each room you're designing.
This grid may also be physically constructed the old-fashioned way by saving paint samples and collecting fabric samples. Don't be afraid to include photos or clips from magazines, either.
This will help you try out tones and textures together, without committing to something you can't undo. Next, you're going to look at: What are the common elements? What's uncommon? Common elements may include a passion for lines and geometric pattern or various tones that relate nicely to each other. Simplify your choices, and pick one or two elements that stand out as uncommon. Then, go shopping.
#2 – Choose Contrasting Colors Wisely
Gradations of the same hue in a room create a calming, chic and modern look, depending on the color you choose. Greens will invite nature in, while grays are more modern and industrial. This monochromatic look is definitely on trend, but it may feel too boring to others.
Working with contrasting colors adds drama, flair and personality to a space. While the rest of the room may be gradated or subtle, one wall may feature the brightest tone of blue, with a royal blue couch against it, and on this couch are throw pillows with a contrasting color, such as yellow-orange. Ideally use contrasting colors as a way to add a pop of color or draw attention to a particular area.
#3 – Mix Wood Tones and Texture for a Nature Feel
Forget the wood paneling of decades past, in the basement of your grandparents. Heavy sets of furniture are no longer bought all at once. These days, buying wood furniture pieces is easier, as each piece is carefully purchased and placed in the home. You have more control over how your design aesthetic unfolds in a space this way.
Before you add furniture, you may want to consider installing or refinishing a hard wood floor. Is there an old hard wood floor in your new home that you want to design around? There is your first tone. The key to mixing wood tones and textures is to take the hidden undertones into consideration. Now, inside that wood floor may be undertones of orange or yellow. Choose two or three colors, finishes, stains or types of wood that would go well with this floor.
This is your base to build from as you design the rest of your space. You'll want to stick with simple elements, such as neutral colors to draw focus to the floor. In this space, it's a good idea to let one piece of furniture be the star on the stage of the wood floor, such as a beautiful antique bedframe.
#4 – Mix Pillows, Throws and Carpet Textures
Soften the look of a too-modern or too-bold space by mixing the textures of pillows, throws and carpets. Your area rug or oriental carpet could be the textural focal point you build around. Don't be afraid to mix patterns and textures. Flannel, Egyptian cotton, wool and silk can live together.
Let these materials alternate in a monochromatic spectrum, so that the focus on the feel of the texture. Focus on sacred geometry, and let the color pop in the lines as the patterns and textures interact over neutral background tones.
Define what home means for your aesthetic. What's does it look and feel like? From mixing wood grain to various contrasting colors, use these tips to add personality, comfort and flair to your space that you'll love to relax in at the end of a long day.