Mixing Old + New — my TEN favorite purchases
Before I learned to decorate by mixing old with new items, my house resembled a plain white gymnasium. My decorating senses were placed on hold in favor of raising babies and working full time. The house remained boring and blah for the better part of seven years.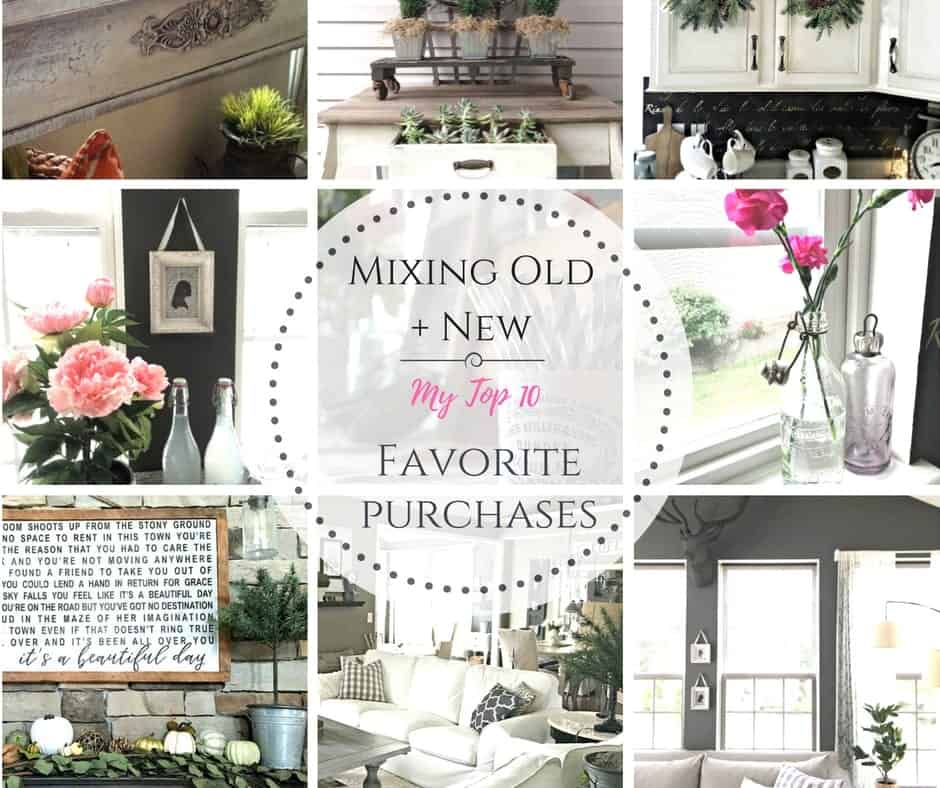 It wasn't until 2012 that I really started to take decorating seriously again and learned the art of repurposing and integrating thrift store finds into my decor. I wanted my kids to have a "home" to enjoy, filled with history and personality.
I think the key to unlocking a beautiful home is to decorate by mixing old with new decor, while honoring pieces that have history and personality. I love creating a curated look that reflects the unique personalities in our home. It's fun when almost every piece has a story.
Decorate by Mixing Old with New
…a round up of my favorite purchases + repurposing projects
#1: Victorian Table (thrifted for $25)
Believe it or not, this table was sitting outside in the rain. When I laid eyes on it, it was love at first sight. Not just good bones…great bones! I immediately saw the potential even though it had water damage and fluted legs. It was my first Annie Sloan Chalk Paint experience…and it still remains my #1 most favorite purchase in our home. I will never part with this piece!  (My husband agrees!)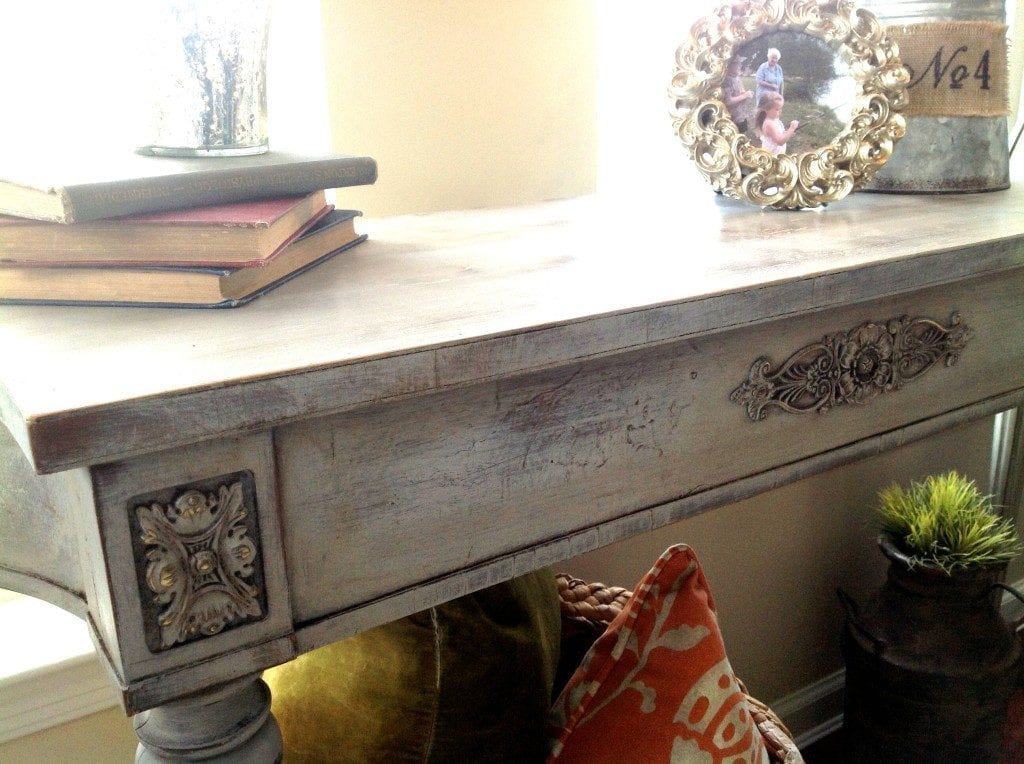 See the before picture and my first Annie Sloan Chalk Paint experience here
#2:  Ikea Ektorp Couches
We fixed a major seating challenge in our house when I invested in two Ikea slipcovered couches this summer.  I snagged a discounted floor model in the clearance section (don't forget to look in clearance first — this means you have to walk "in through the out" door.) The second couch I bought new.  Finally, all of us have a place to sit in the living room.  It's a little cozy, but I say ignore the decorating "rules" when it comes to furniture placement — if two family members are sitting on the floor in the name of "rules" –– then the rule is meant to be broken.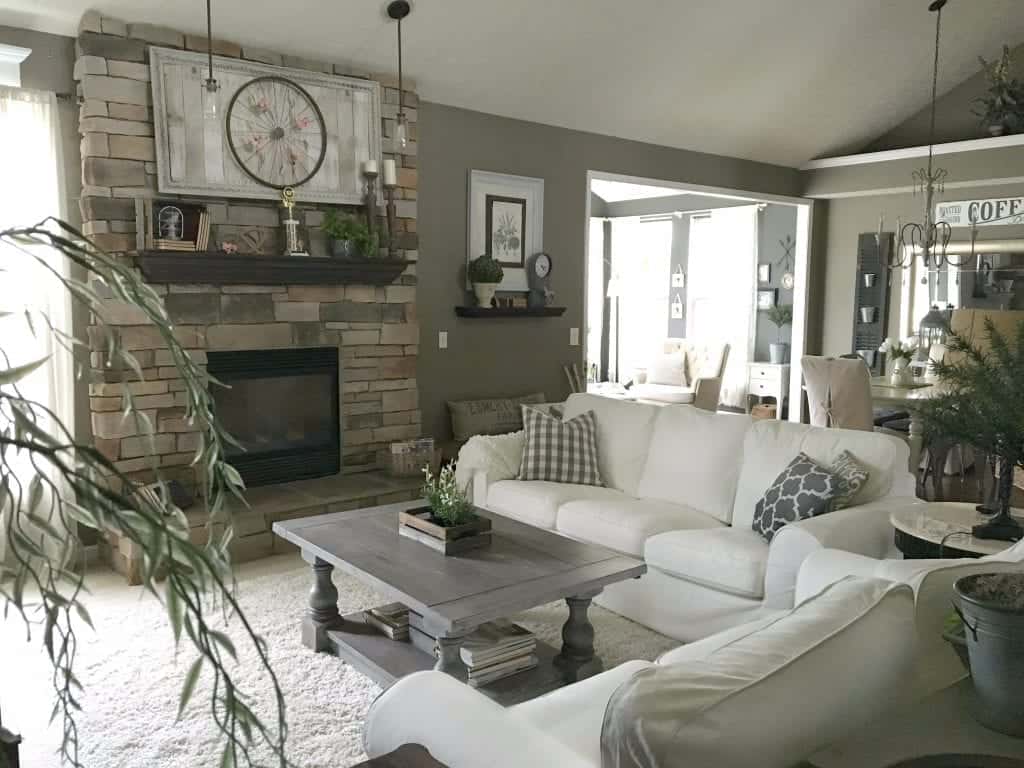 #3:  This Farmhouse Sign
Many new Hometalkers asked about where I purchased my sign. I spotted them in an Ohio shop that was having a sale for customized farmhouse signs…I jumped at the chance! Not only that, I visited Becky's shop in person, and we distressed the sign together.  The backstory: our custom sign is the first song that played after Mr. Snazzy and I were married.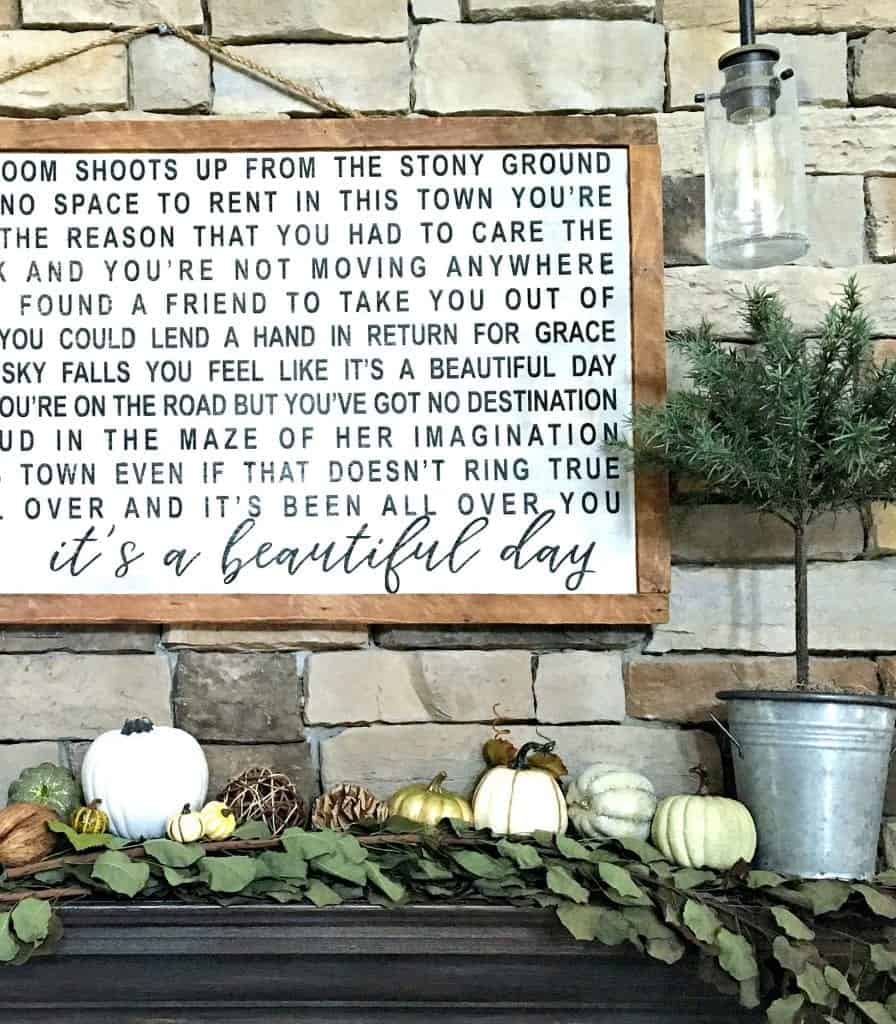 Order Yours!
Junque is taking custom orders right here on SnazzyLittleThings! Email me to reserve one of 10 spots for your own custom sign, spots are very limited!! They are 47″ x 25″.   $120 U.S. + exact U.S. shipping (or you can pick up if you're local to the Youngstown, Ohio area)!  Since each sign is custom, there may be a 4-6 week lead time, so plan ahead!  I suggest following @BeckyJunque on Instagram where she posts her latest creations, and you can be placed on her mailing list.  She's the SWEETEST person!
#4:  This old table, repurposed as a potting bench
An example of addressing a functional "need" with good form :)  We had an empty nook, and it just felt like an empty void until I found this table.  Another one found in the rain. Curating gorgeous pieces take patience and time. It's just nice to have a place to set my purse while I unlock the door. Or place my grocery bags.  This will be this table's permanent home. I do a little treatment to it each year to make sure it can withstand the weather. It's holding up beautifully. It was actually broken when I bought it, and Mr. Snazzy worked his magic in the shop and tightened it up.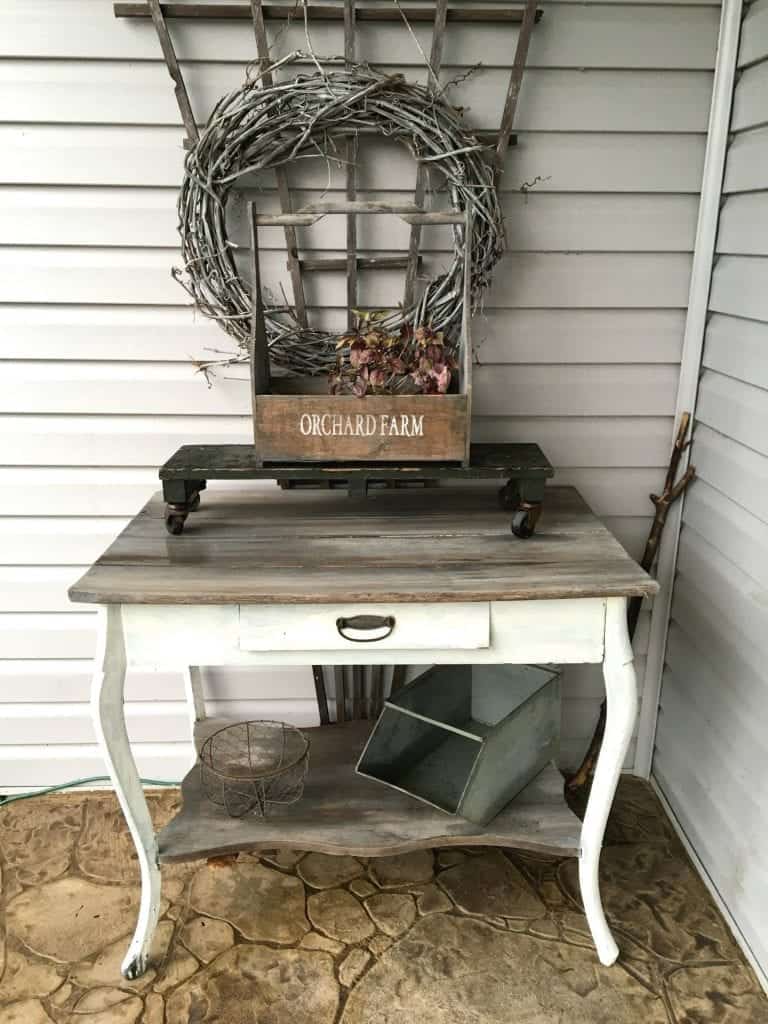 Read the story about this table here…
#5: Anything Galvanized Metal!
If I see galvanized metal in a store, that's where you'll find me.  It satisfies the "industrial" side of my decorating, but works well in my "twist of farmhouse" decor. I can't help it. It wasn't that long ago I only saw galvanized metal as something that Oscar the Grouch lived in.  I feel differently now :)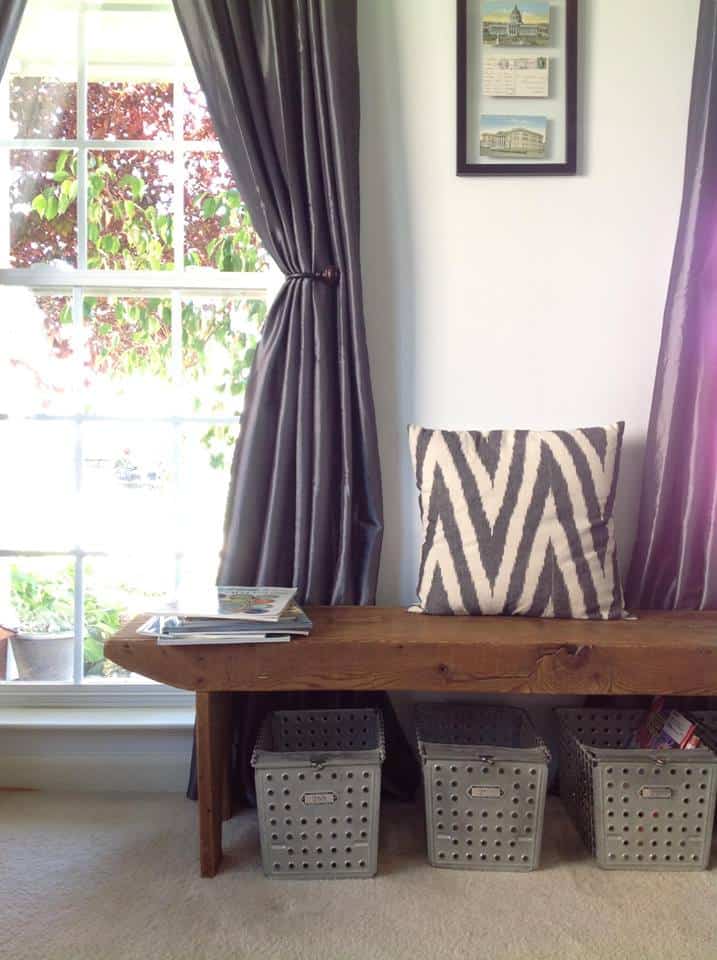 Take a tour of my office (new flooring is being installed as we speak!)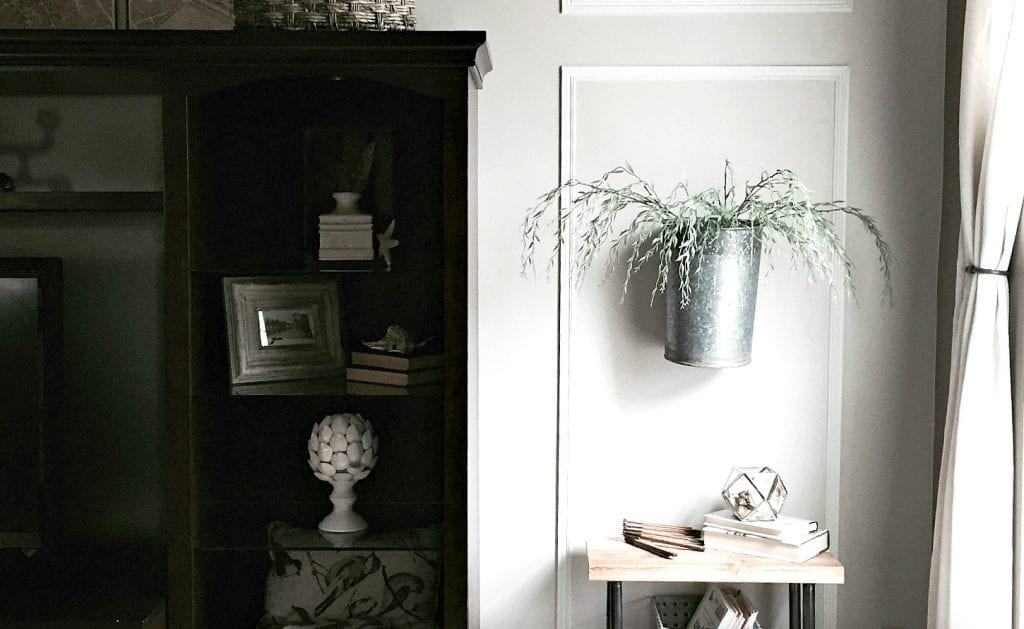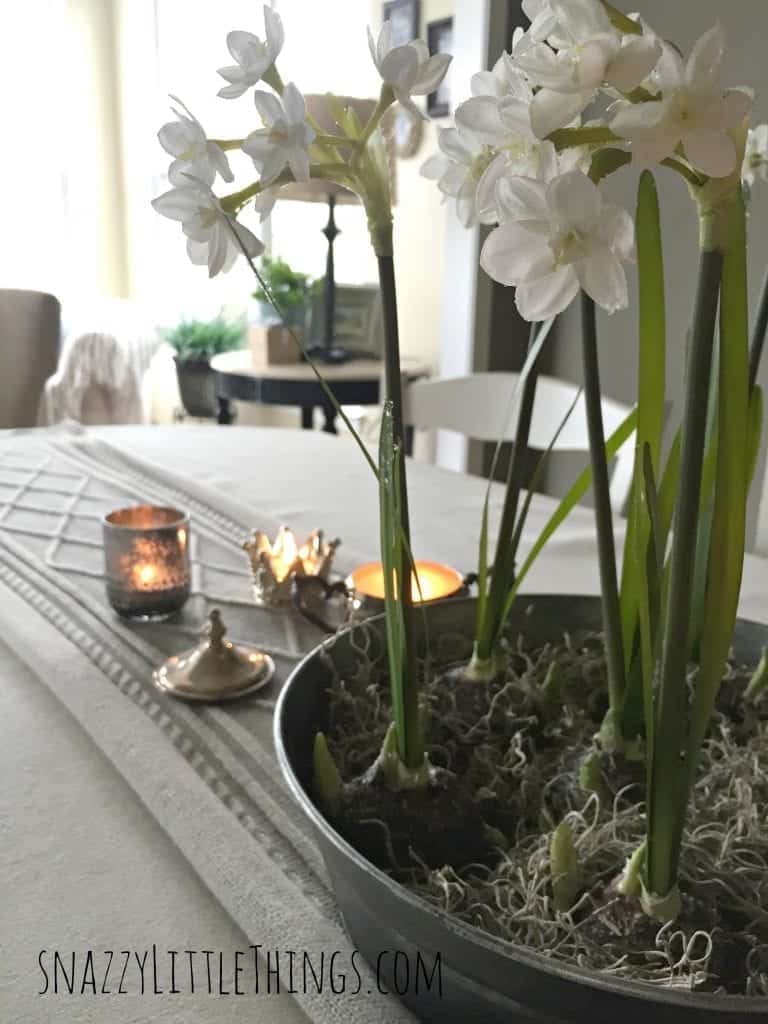 How to Age Galvanized Metal (a tutorial)
#6:  Stag Head from Restoration Hardware
Once we added the wood beams in our sunroom and painted it a darker color, the wall was begging for something to anchor it. "Buck" added a punch of personality to that space. The unique personality that loves him the most is my sixteen-year-old son.  He instantly appreciated Buck's beauty…(but he questions my choice of lace curtains in the same room) ;-)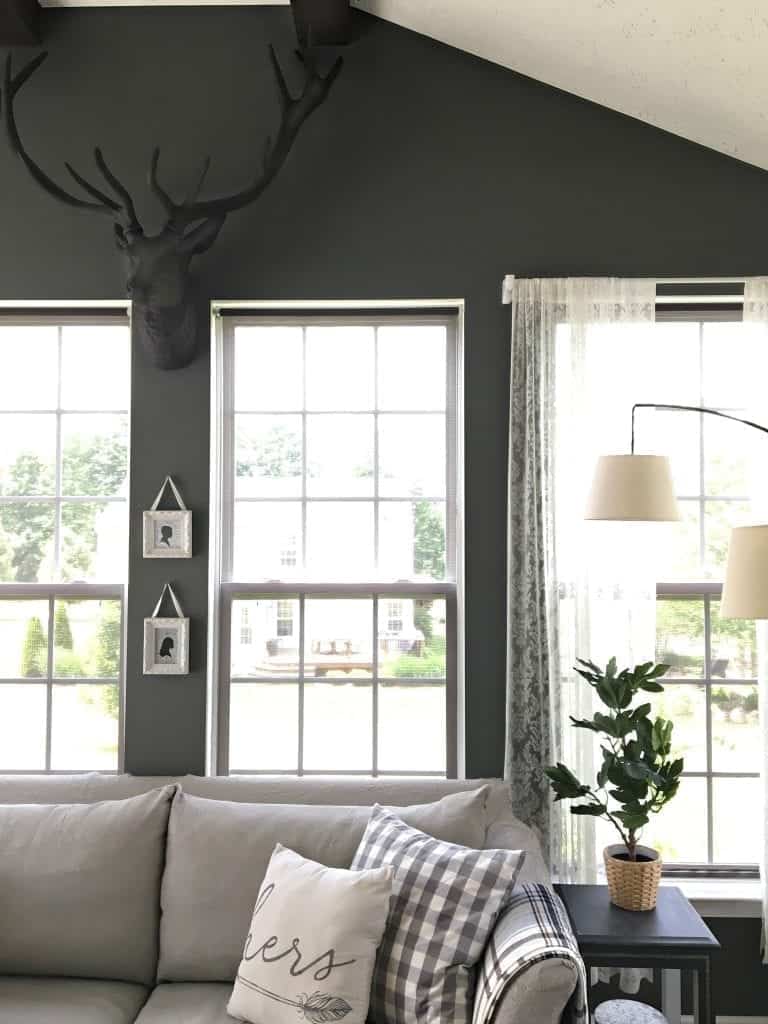 A "splurge" – the Restoration Hardware 1890's Stag Head
#7:  This stencil
Nothing has changed my house quite like the Royal Design Studio "Springtime in Paris" stencil. It started as a crazy notion that I would "temporarily" stencil my backsplash since I was being cheap and didn't want to invest in subway tiles. This rogue project ended up getting me my first mention in Better Homes & Gardens. Now I can't imagine my house without it!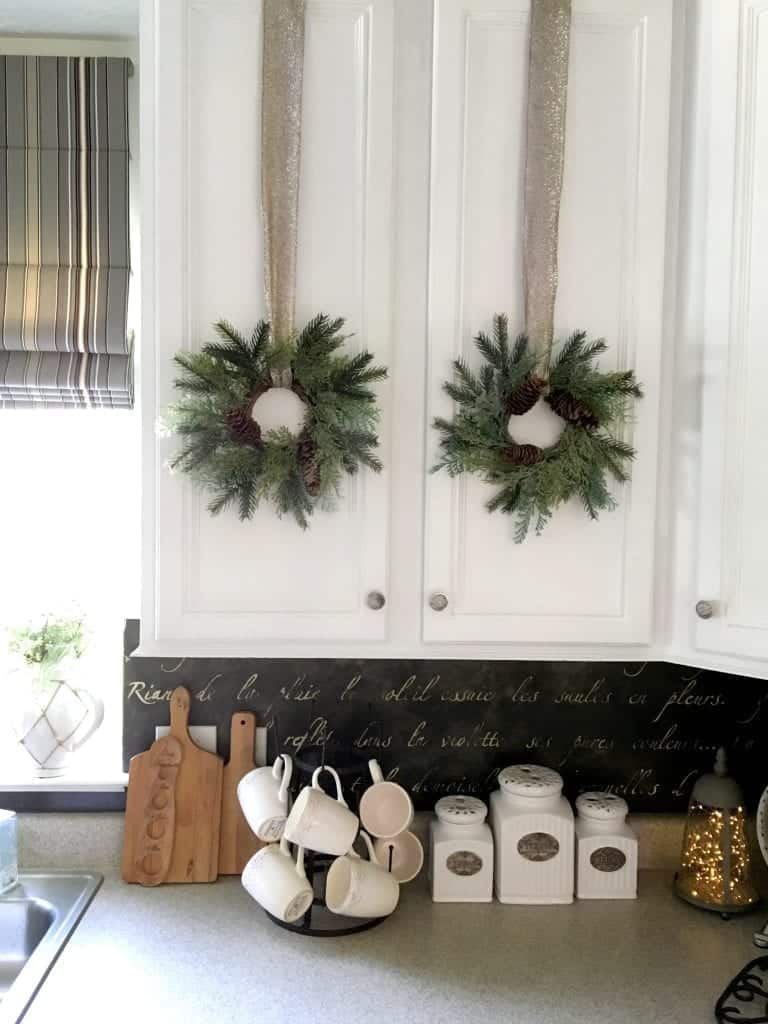 #8:  My Home Printer
Pinterest opened my eyes to what a huge impact my home printer could have on my decorating. I had NO idea that free printables were even a thing…and then, I started making my own. If you're not a subscriber, by becoming one, you will have access to my free printables library.
I like big art…and I cannot lie. I am so thankful that I learned the beauty of enlarging images and printing them on my printer to create art for my home. Did you know that my HUGE vintage Paris map art was also created with my home printer, and cost me only $40??? There is definitely a trick to learning this! Once you figure out the matrix, you'll be hooked!  For furniture transfers, visit this post where I share "60+ Chalkboard Art and Furniture Transfer Projects"!).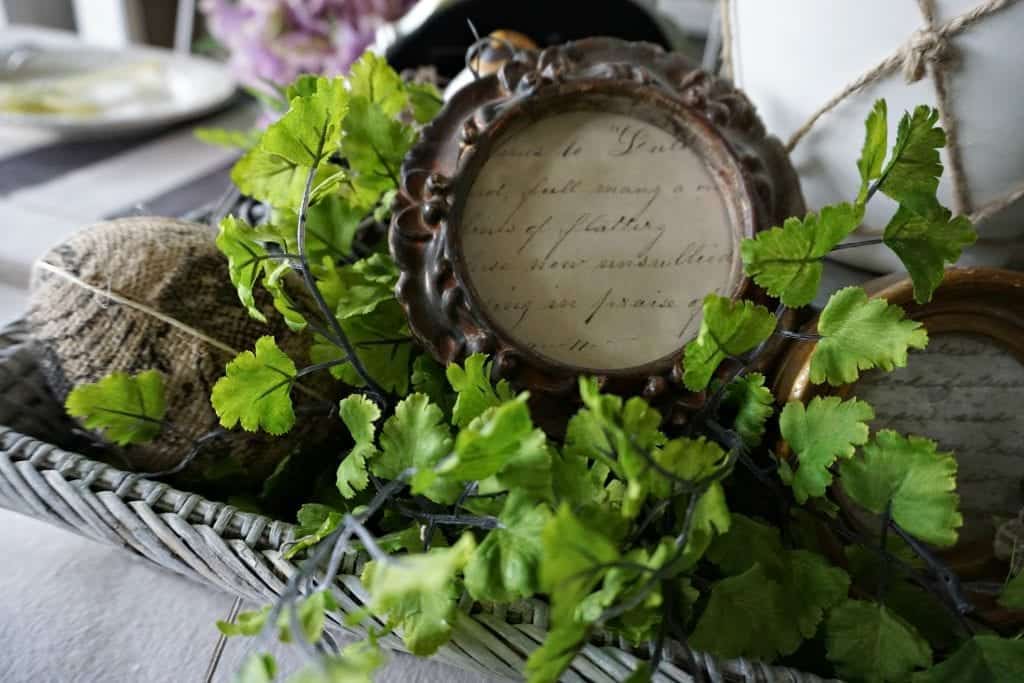 Example of a framed printer project…simple!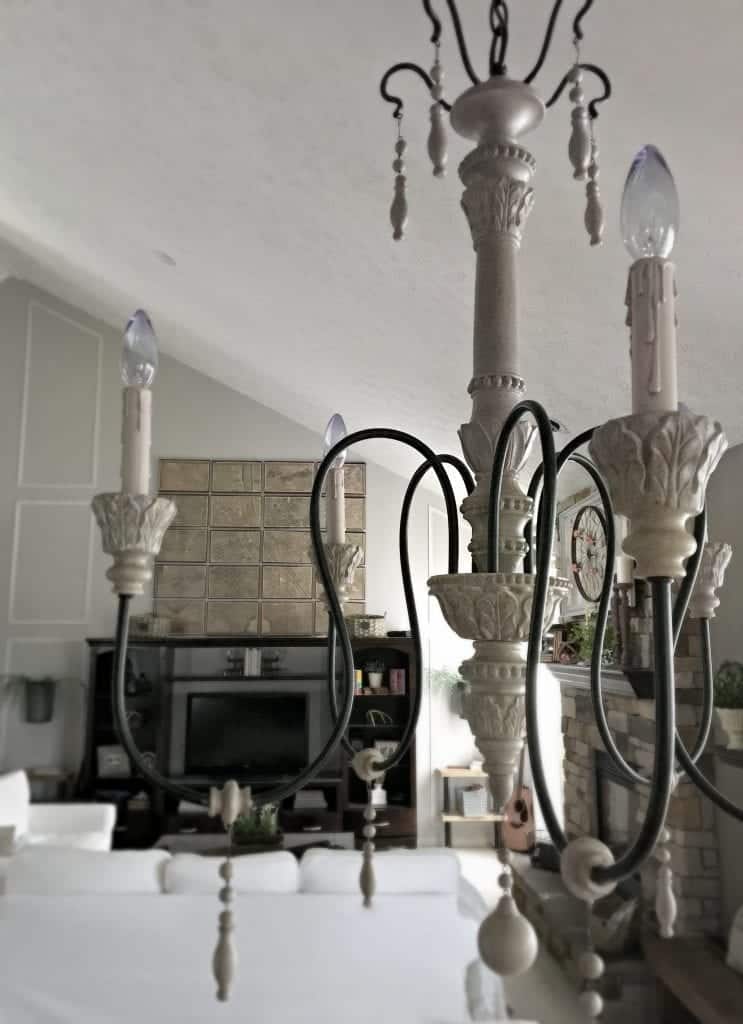 Visit this post to see all of my home printer art projects.
#9:  My grandpa's jars
These are one of the very rare family heirlooms that I own (long story on that for another time).  But I cherish these deeply. I love old bottles with simple embellishments. These sit on my windowsill in my kitchen. He was a Mason Jar dealer (which is a little more serious than a collector). It was a treasure hunt for him.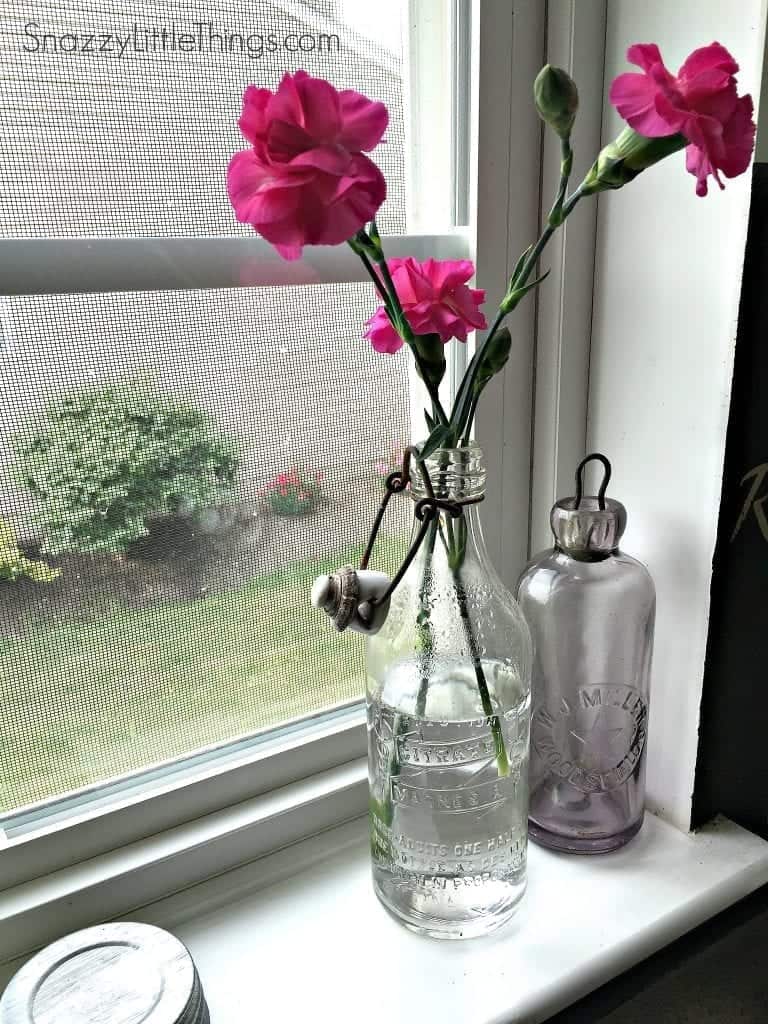 He loved finding unique colors….like to purple one on the right.  The reason I mention my grandparents so much is they were simple folks…it wasn't about "things" for them, or status. Grandpa loved finding these jars as he "dug in the dumps" he used to say. I admit, we thought it was  a bit strange at the time, but now we're all basically doing it through Craigslist!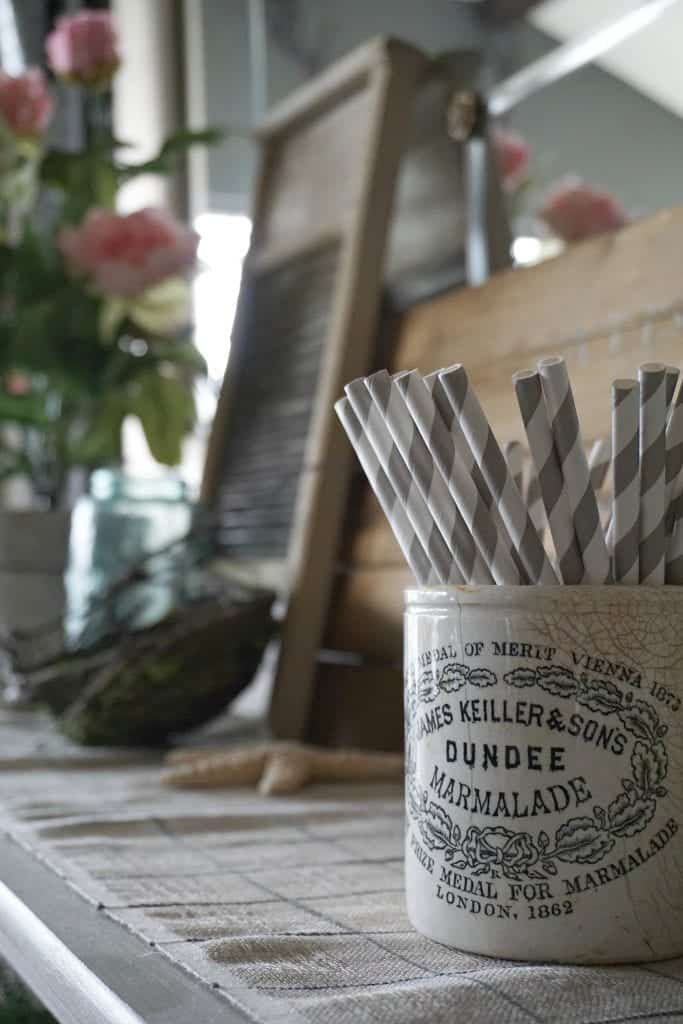 One of my own items that I picked up during a thrifting adventure.
10#:  My scale clock and old rug
This scale clock from Antique Farmhouse is an absolute favorite of mine. It's a working clock and fits perfectly in the corner of my kitchen. But you can see how popular my magnolia rug was when they featured it the scale! I'm so bummed that I can't find it in the same shape and color and it's starting to wear out. It was the focus of conversation when Antique Farmhouse was featuring my clock.  You can still purchase one here in a different shape, but it's not round (maybe I can cut it into a round circle?)  Crazy, I know!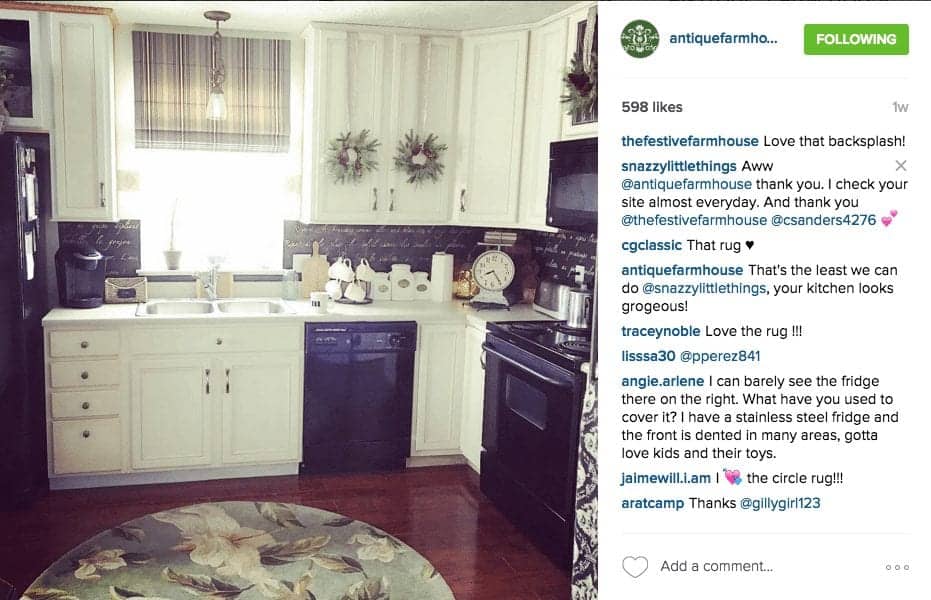 How do you decorate by mixing old and new items in your home?  I'd love to hear a story of your favorite piece, one that you'll never part with!
PIN IT!