I've been sharing snapshots and videos our first days in our new house on Instagram, if you're not following me there be sure to stop by and say "hi". We closed on the old house August 24th, and we are happy to say that we officially moved into "The Picket Fence House"! I shared more details about our experience selling our house and whether our DIY efforts paid off in last week's post. Today I'm sharing our mini mudroom makeover with you + a few glimpses of other projects on our to-do list. With this post, a brand new chapter of budget DIY & decorating has begun!
In case you didn't hear, the move wasn't all sunshine and rainbows. It was…so hard. A little bit tough emotionally – but a LOT physically and logistically. A quick summary…
The Cost to Move // the final tally was $2,000 if you exclude the cost of Mark's old Jeep blowing up on the side of the highway, (may the 'Commander' rest in peace).  We took four x 400 mile round trips to move. The Jeep bit the dust. We had a flat tire on the freeway in a major rainstorm. And one mishap with the UHaul which was covered by $20 insurance. Our *cheap* relocation sure beat the $10K price tag that was quoted for professional moving and packing. But it was pretty exhausting.
Now that we can laugh about it, we are starting to appreciate the easier lifestyle our new home offers. We've discovered friendly neighbors, a quaint & beautiful downtown, a gorgeous bike trail and I rekindled my love for morning walks. A much needed lifestyle adjustment was one of many reasons for our move. We barely need to drive anywhere. Our original goal was a larger yard and fixing up an old house. But with all that we have, I could see us being happy with this simpler and active lifestyle for a long time. Here are the views from one of my walks on the trail.
I feel so lucky that this is available right from my driveway! The cute downtown is also within walking distance. I'll share more photos soon.
The Mini Mudroom Makeover
After we moved in, my sights were set on cleaning up the mudroom first and foremost. I could tell that a baby gate was used to segment this room and that dogs spent a lot of time here. So the mudroom needed my immediate attention. The laundry room is next, but more on that later. Here is the mudroom, "before".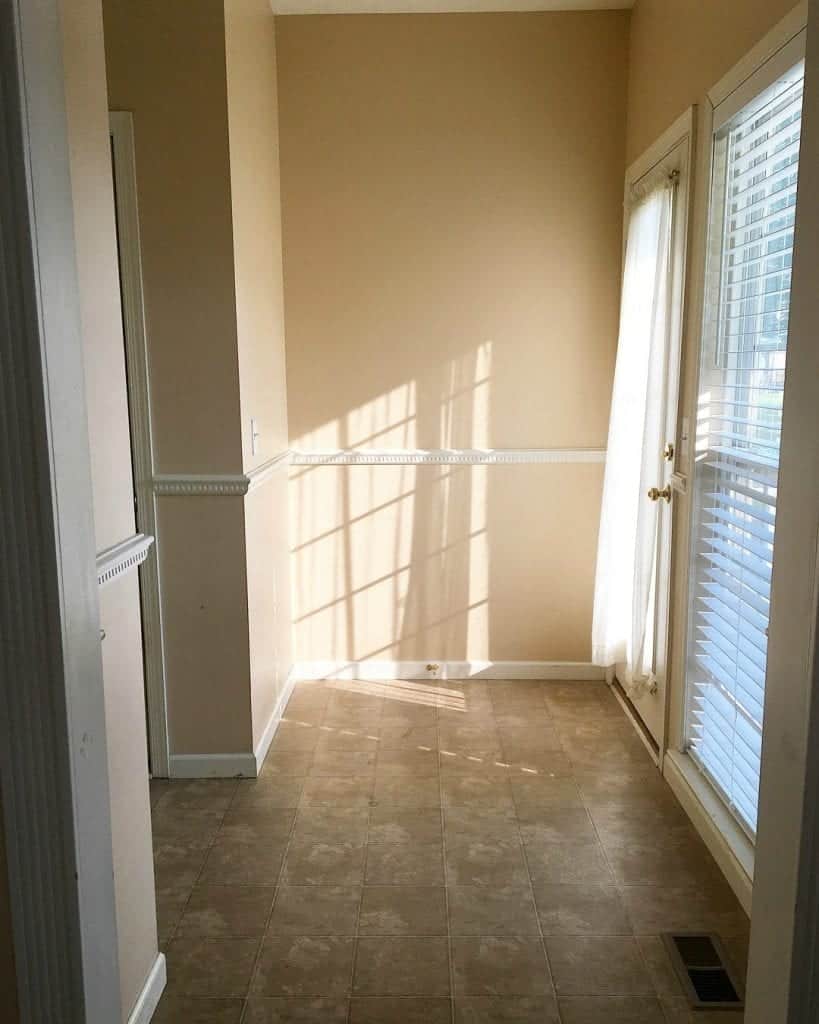 I love that the previous owners invested in lots of crown molding and trim. But after 14 years even some of those upgrades are looking a bit dated. Isn't it amazing how fast styles change? So we are focusing on low hanging fruit, low-cost / high impact projects that are cheap and easy. Updating the chair rails are a super easy update.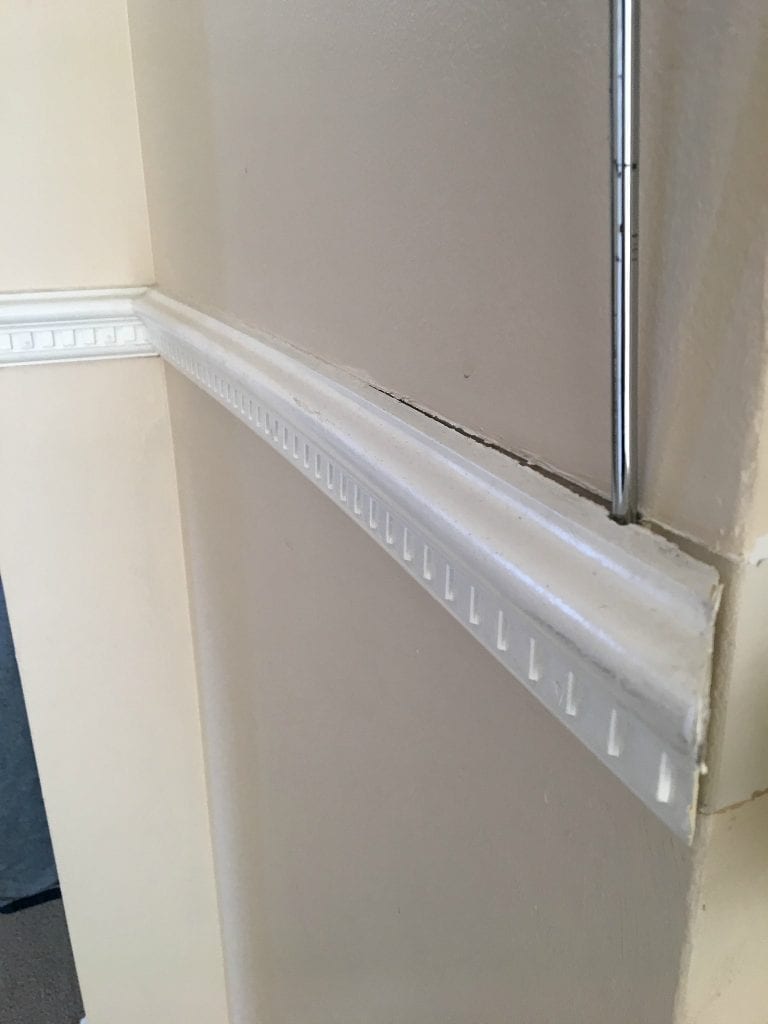 After removing all the dentil molding chair rails, there are still holes in the walls, but soon we'll have a better vision of the whole house decorating concepts and what colors we want to paint. We aren't sure if bead board is next…so I left the holes for now. I threw away the old curtains and cleaned every corner with hot water and soap (the previous dog(s) had torn them up). Then I primed the walls with Kilz. What a difference already!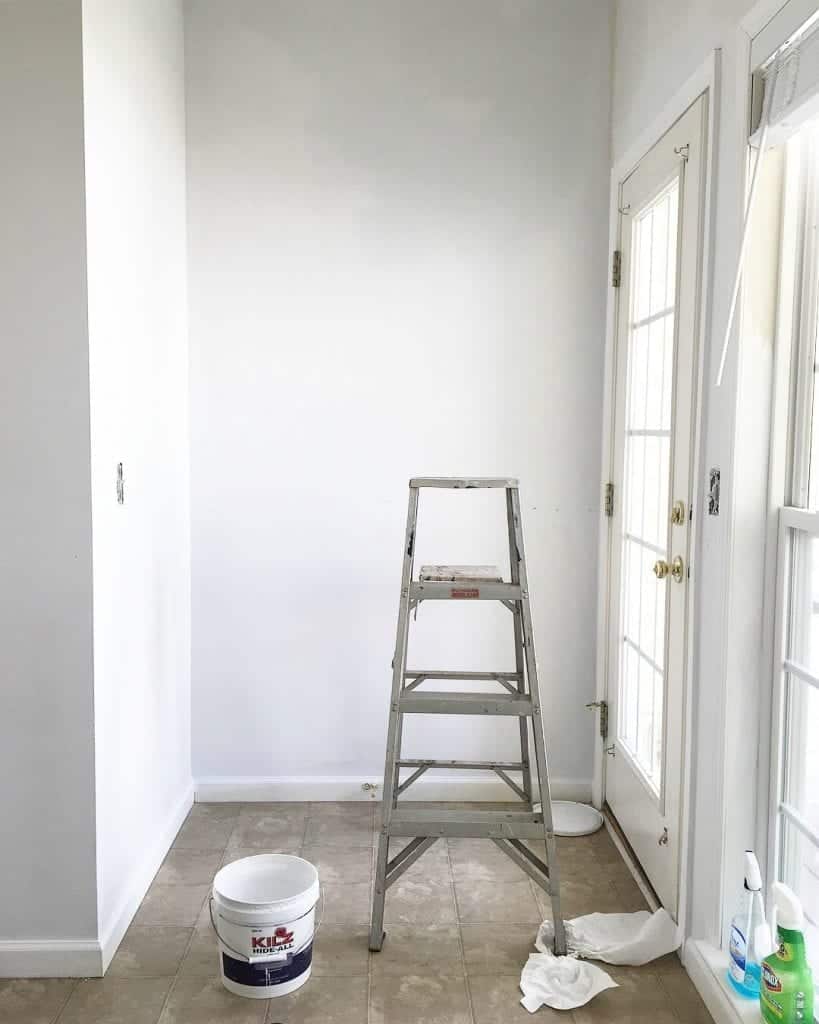 To make the room a tad more functional I used some furniture that we already had.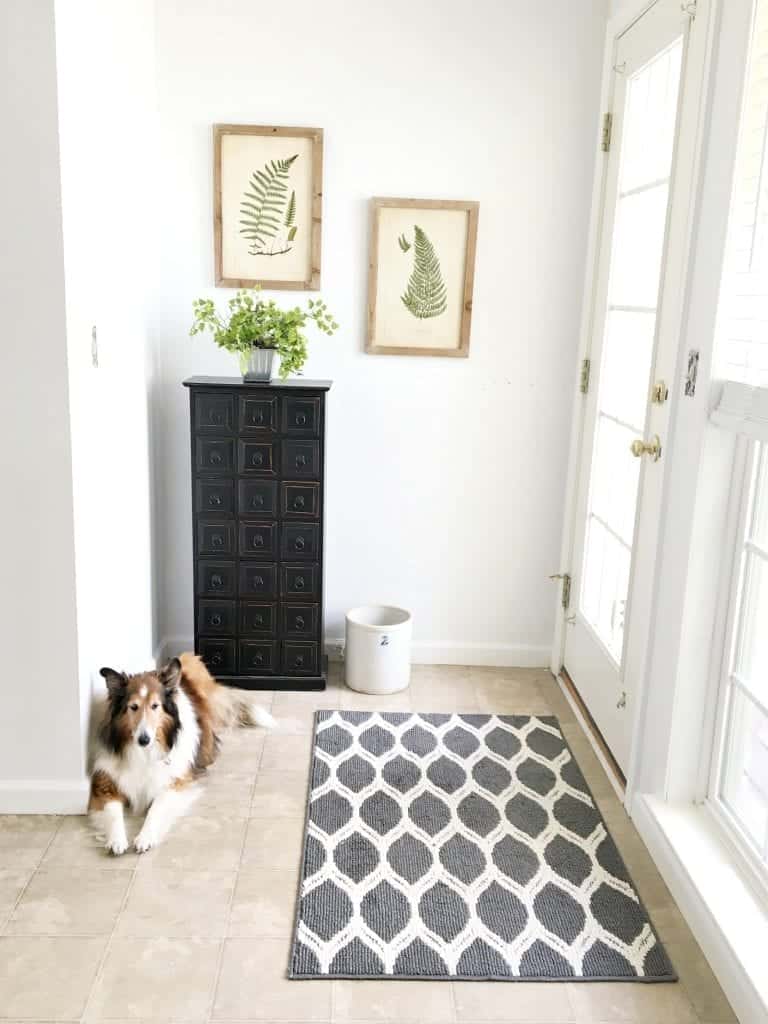 Inspiration photo:
Here is the photo that inspired me, and may best represent what we are going for in the house on a long-term basis. This is a bit fancy for a mudroom but I love the colors and the feel.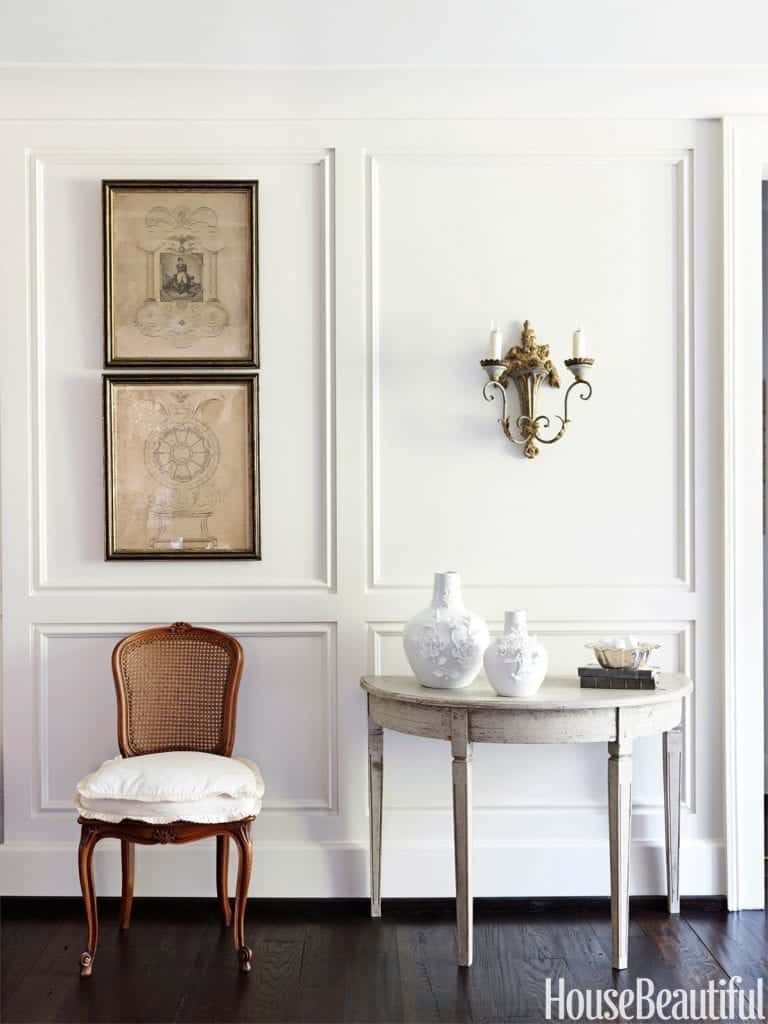 Source: House Beautiful
A tip I learned in the last house is to find a photo that inspires you. Then use what you have to emulate that same look.  I think you can see how I got there.
Other Projects:
Indoors
Here are the adjacent rooms that I can't wait to update. I'm pinning away on Pinterest and getting ideas. The main living area in our "just moved in" state. The walls will be painted very soon: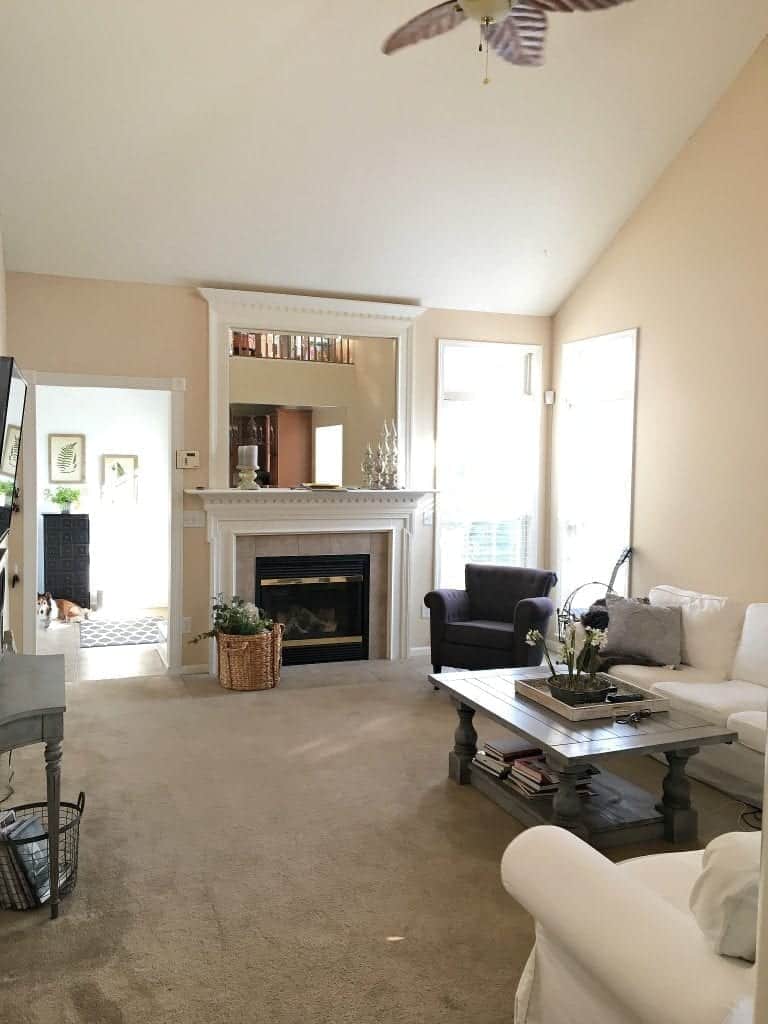 And the laundry room is a priority, and we're shopping for appliances. It's a hot mess right now, but I know we can make this nice, hopefully soon: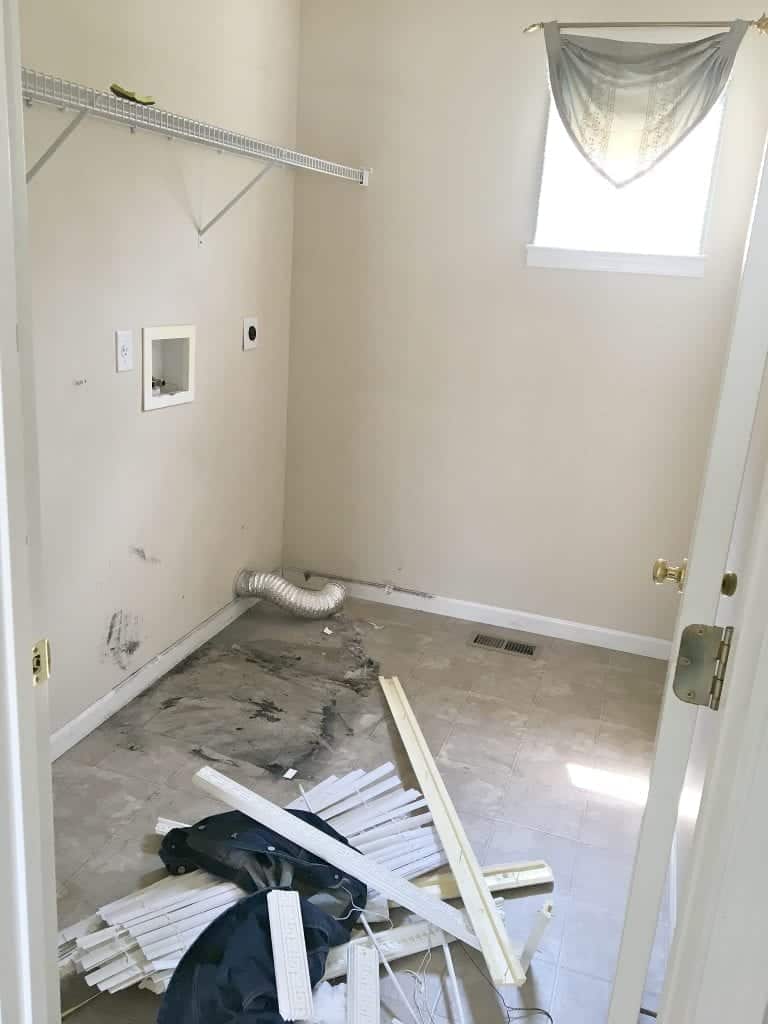 Outdoors:
I'm giving myself the first few weeks of September to get the house looking pretty on the outside. First we power washed the sidewalks and the porches, what a difference!
My son is pressure washing and it looks awesome. Our new house needed some attention outside. #greenworks #newhouse #freshstart

Posted by Snazzy Little Things on Tuesday, August 21, 2018
Quotes for tree trimming are coming in. We may paint or replace the front door and update the landscaping. I'm excited to update everything in time for fall.
More mini makeovers to come!