Weathered Gray Cherry Table Makeover
A red cherry table turned driftwood gray using a reactive stain finish! Reactive stains cause a chemical reaction in wood, making it look weathered and aged.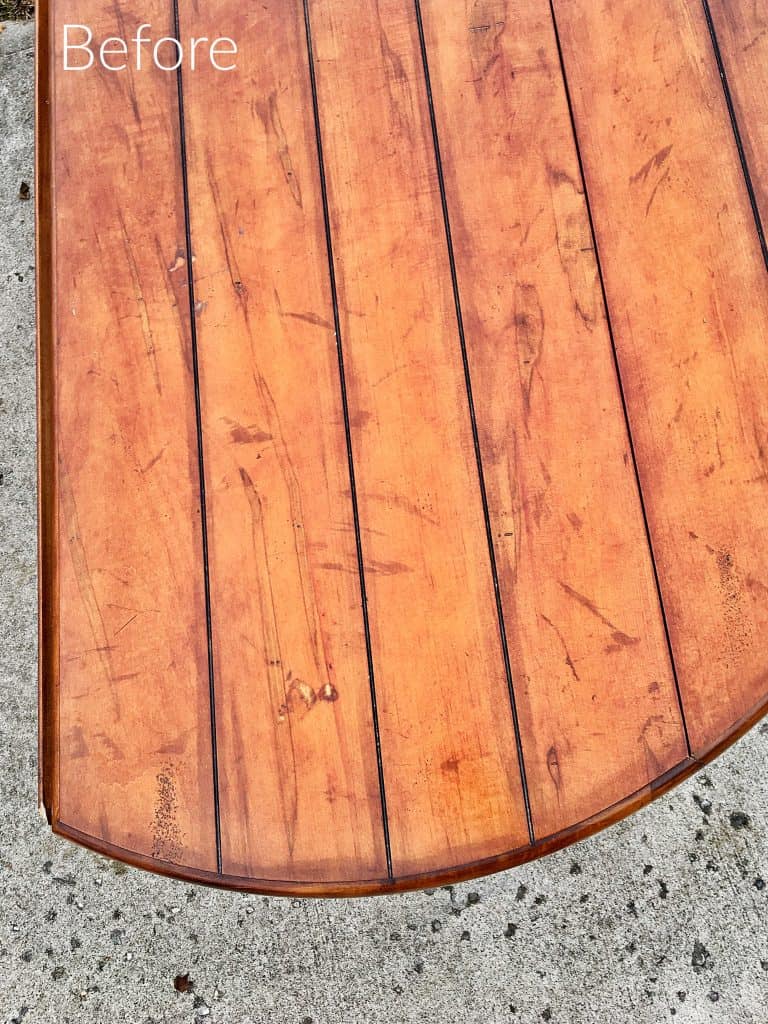 We scored this very RED spalted (ambrosia) cherry table for $50 and refinished it in a Restoration Hardware-style weathered finish. Changing cherry wood into anything but red is tricky, so I tested out several different stains to get exactly the color we wanted for this heirloom piece. Click here to see more of my furniture projects.
Our formal dining room has been sitting empty as I debated how to use this space. A library? Office? But seeing that our family has grown tired of the metal chairs in our dinette, the decision has been made. Formal dining it is! (And I hear that formal dining rooms are making a comeback!)
Cherry Table Makeover Stained Gray
I found this gorgeous, vintage French cabriole leg dining table on Facebook Marketplace for only $50. It was the right shape and size, just not the right color. It's so unique and the legs are just gorgeous. A makeover needed to do it justice.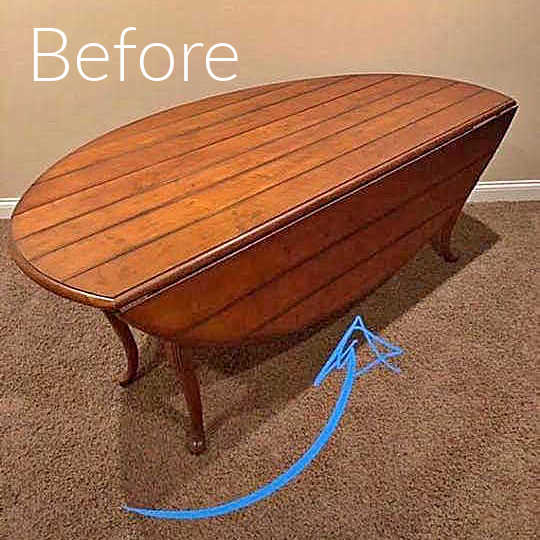 I couldn't pass it up knowing how beautiful it would be once finished. But as usual, I knew there would be a lot of work involved getting the unique patterns in the wood to show through.
Stripping and sanding the table
Instead of writing a long post about stripping the wood, I linked videos showing how I stripped the table (visuals are always better).
Videos–> I used Jasco Premium Paint Remover. First, I applied the stripping agent and spread it out evenly. Waited about 15-20 minutes, then removed the first layer of stain. I wired-brushed the crevices then cleaned the entire table using mineral spirits to remove any residue. The legs were actually the hardest!
Power & Hand Sanding the Table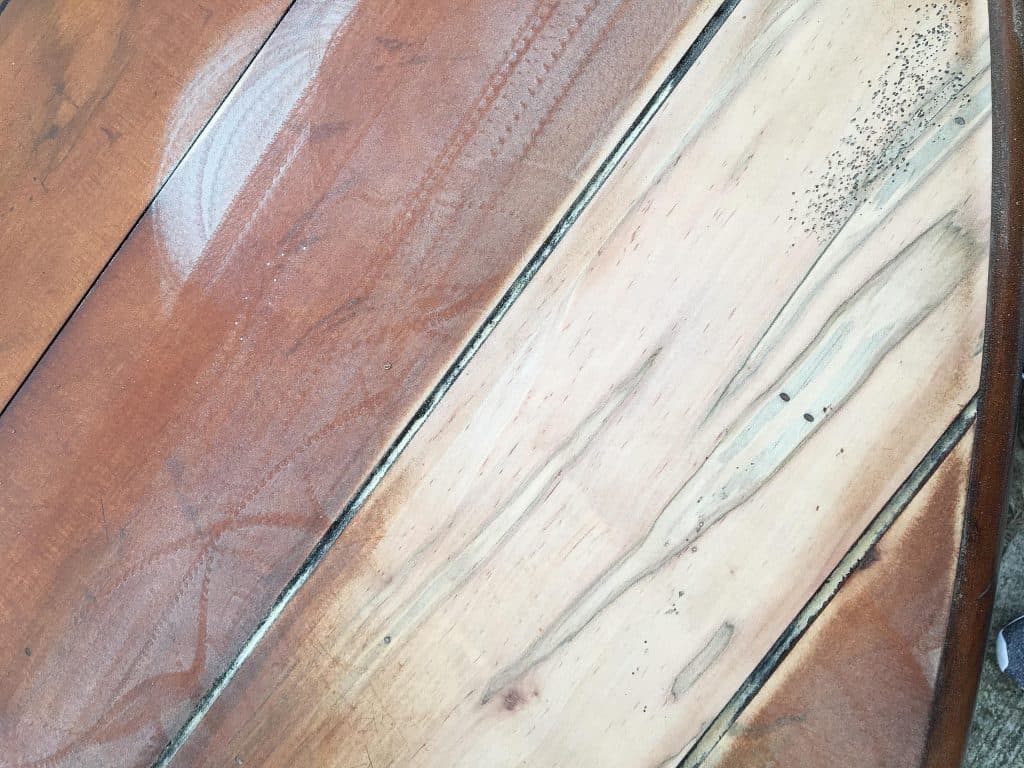 We sanded by using a combination of power and hand sanding. Since we knew we wanted to re-stain the table, we had to remove every bit of the existing stain. We started with 60 grit (the roughest) followed by 80, 120, then ultimately 220 grit (finest) sandpapers. Hand sanding with a sanding block is great for legs.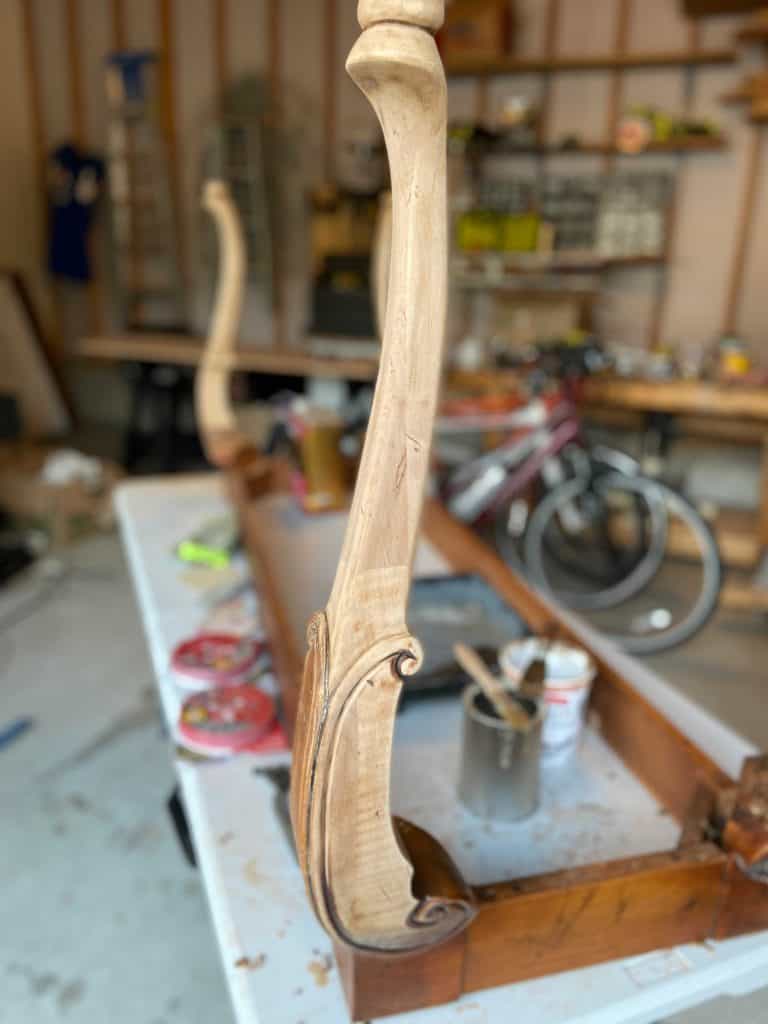 Testing Different Stains on Cherry
I tested out a few different stains in an inconspicuous spot on the table. Which is your favorite? We chose the top test, weathered wood accelerator with a layer of medium walnut danish oil.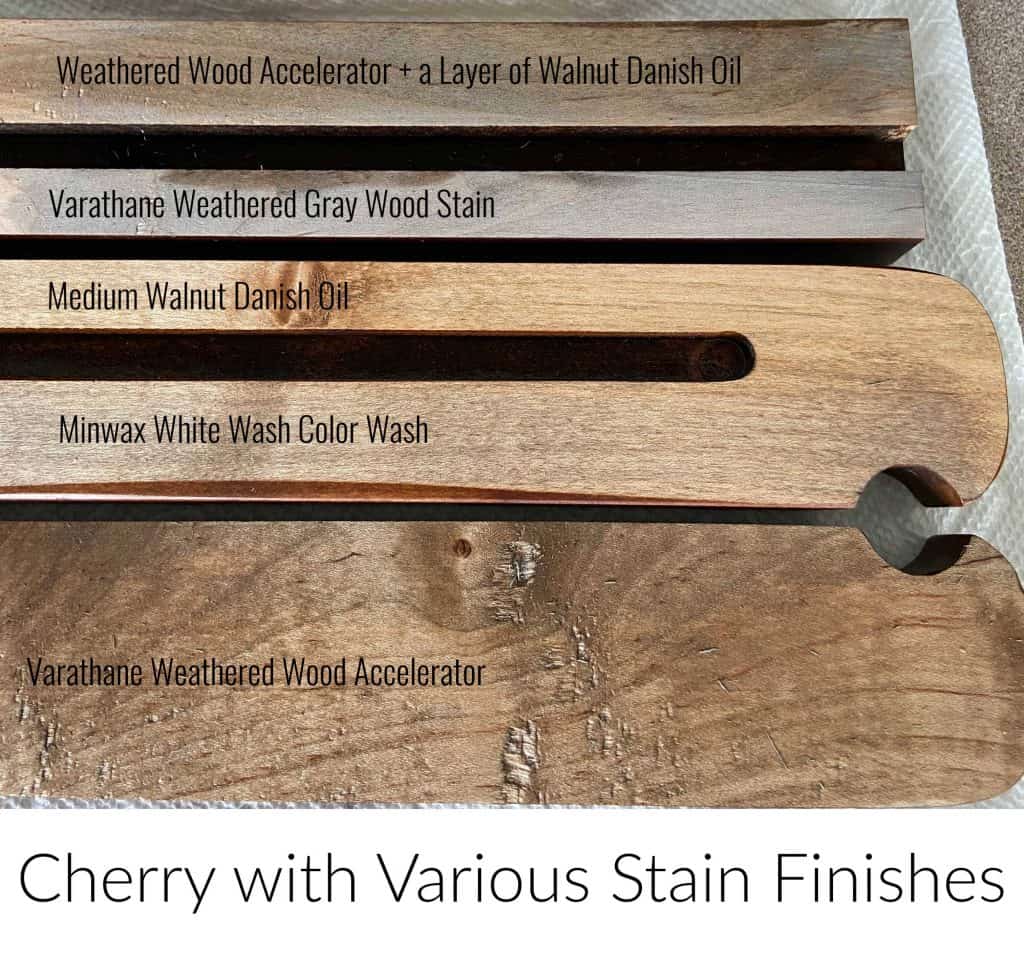 Applying the Reactive Stain (Video)
First I applied the reactive stain on the legs. Let it sit for about an hour and let it work its magic. Click the video below to see what it does to the wood. :)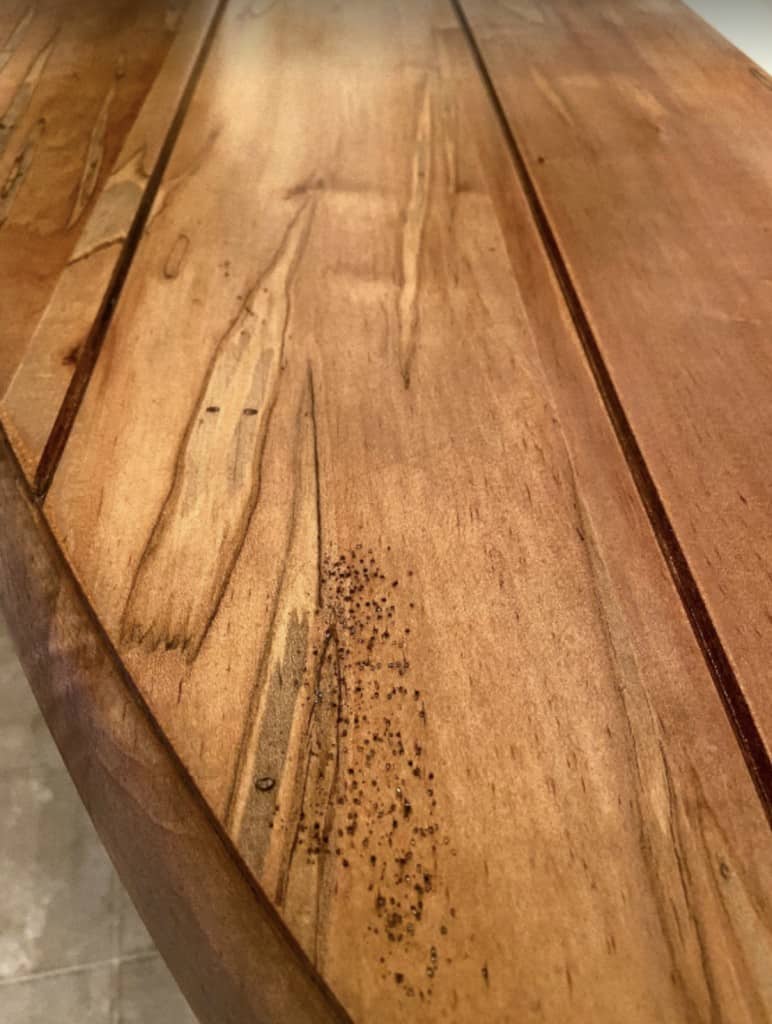 After applying danish oil
Once the reactive stain was dry, applying a medium walnut danish oil made the wood grain really POP!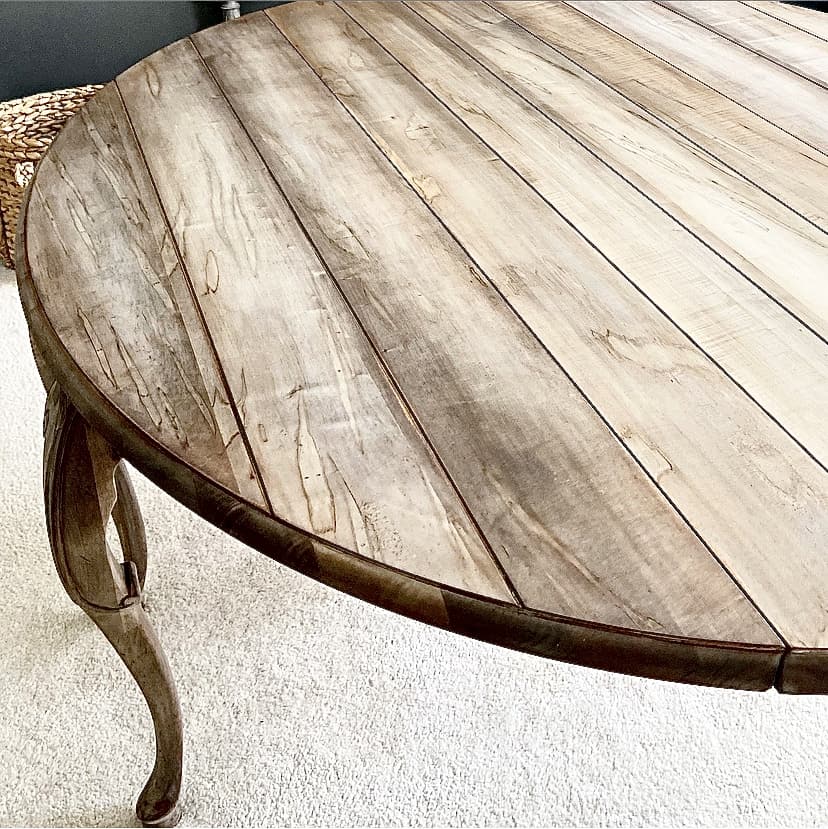 Once the danish oil was dry, I used a foam brush and applied 4-5 layers of water based top coat.

We stopped and started this table makeover so many times, but it's so worth it to have our own heirloom piece that we created together. I'm so happy to play with this new "canvas" and to try some pretty tablescapes (which will be a first for me!)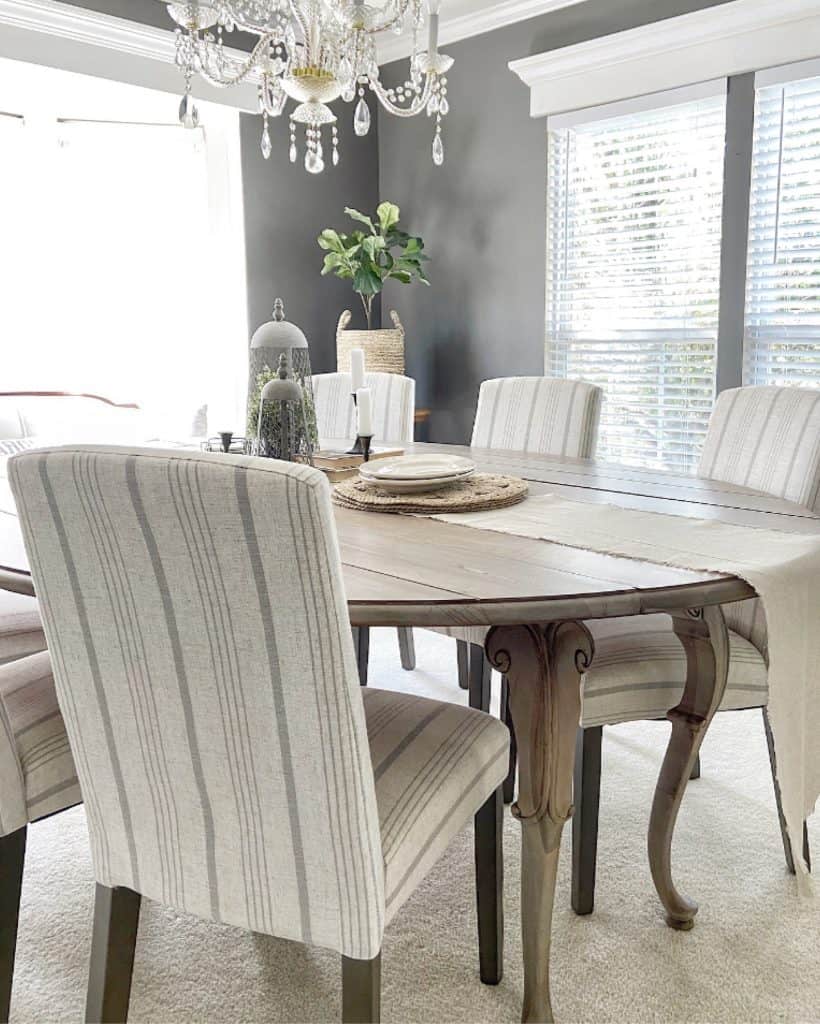 To see more of my furniture projects, be sure to click this link. I'll be posting about the chairs soon, but today was all about featuring the table. So stay tuned!