Rustic Farmhouse Table Makeover with Danish Oil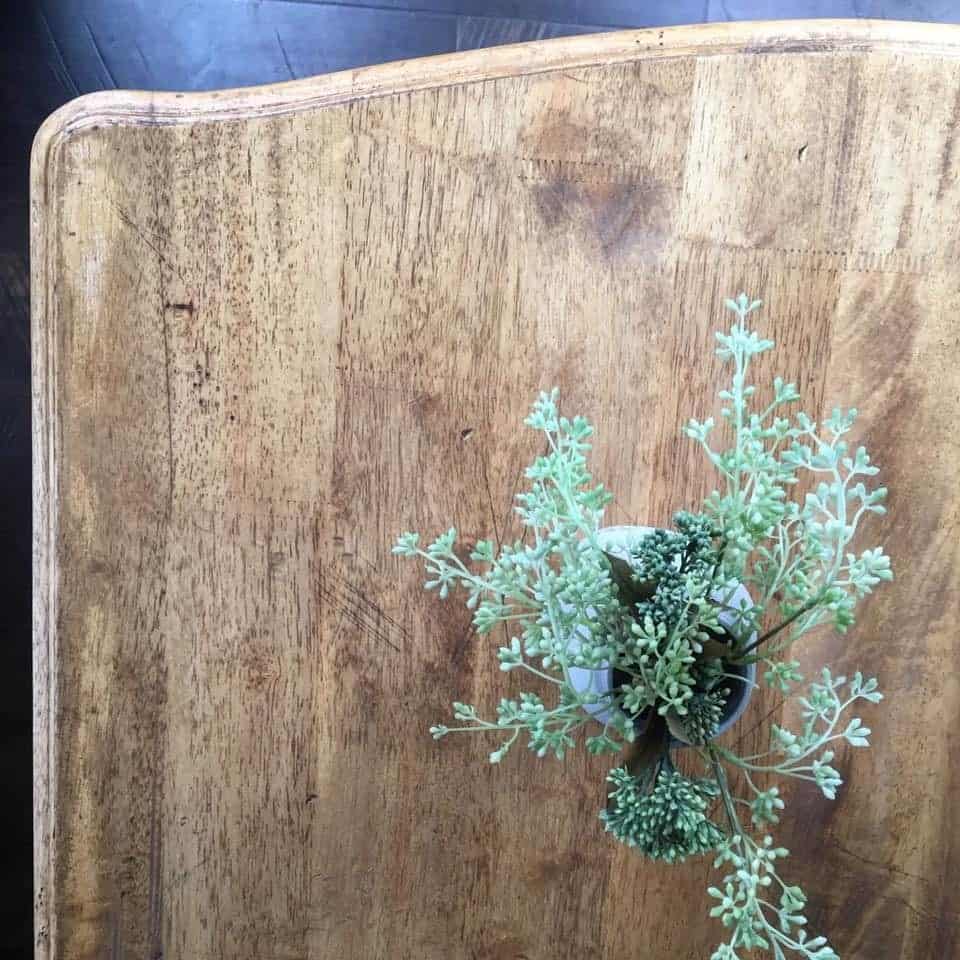 I'm drawn to "old world" European rustic natural wood finishes. That's not easy to find here in Ohio. When I spotted this orange tone 90's-era dining room table online for $50 I learned that danish oil would give me that old-world finish that I wanted. UPDATE: I sold this table for $450!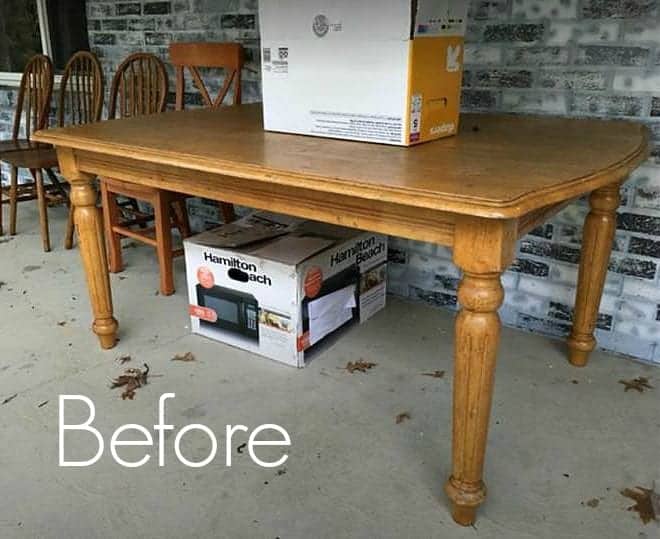 BEFORE: orangey oak table as seen on Facebook Marketplace
Fixing the orange tone on this table would mean removing the stain. I picked it up Wednesday…by Friday night it was done! Now we're heading out celebrating with wine! :)
Thrifted Farmhouse Dining Table Makeover
The gorgeous fluted, turned legs is what grabbed my attention. To purchase new legs this size would cost at least $200, maybe more. And this table is HEAVY, hard solid oak which is a bonus for refinishing and resale. But I just might try to find a way to keep this one (as usual, I tend to fall in love with the pieces we refinish!)
BEFORE:
I was mostly happy with the amount of scratches on the surface, but then I noticed a few unfortunate and too-obvious scratches that weren't very cool and could just be labeled "damage". But we like fixing damaged goods around here. ;-)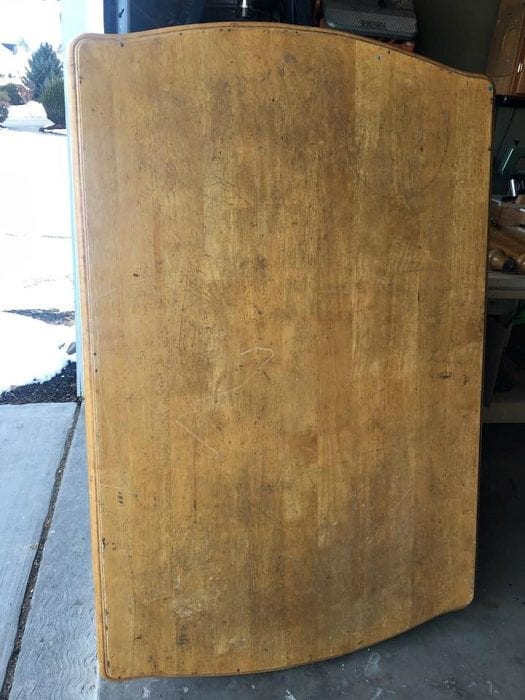 There was a long, deep cut in the surface along with rogue "W" and "O" shaped scratches that needed to be toned down. It definitely possessed the aged characteristics I was hoping for – but there was some work ahead of me to balance out the distressing. Had it not been for those deep, long scratches I might have kept this finish intact.
And it was sooo dirty, cleaning and stripping became a priority.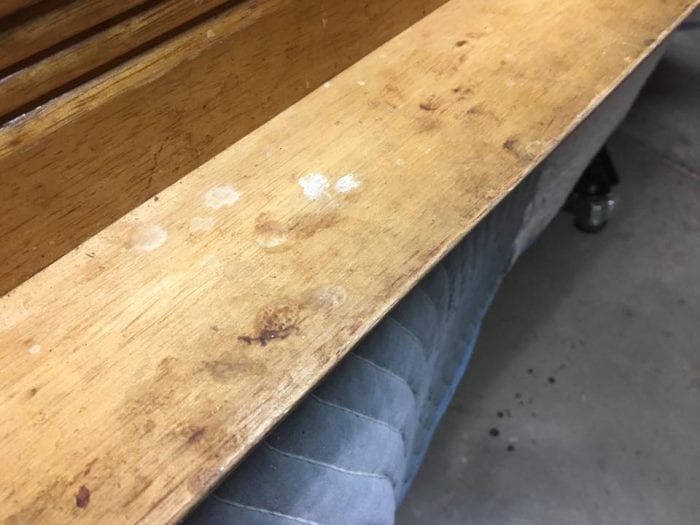 Cleaned, stripped and sanded:
Cleaning and stripping the table took more than a full day of work. Once I was done cleaning every nook-and-cranny, this is how it looked. I was rather pleased. It was so clean…and really beautiful!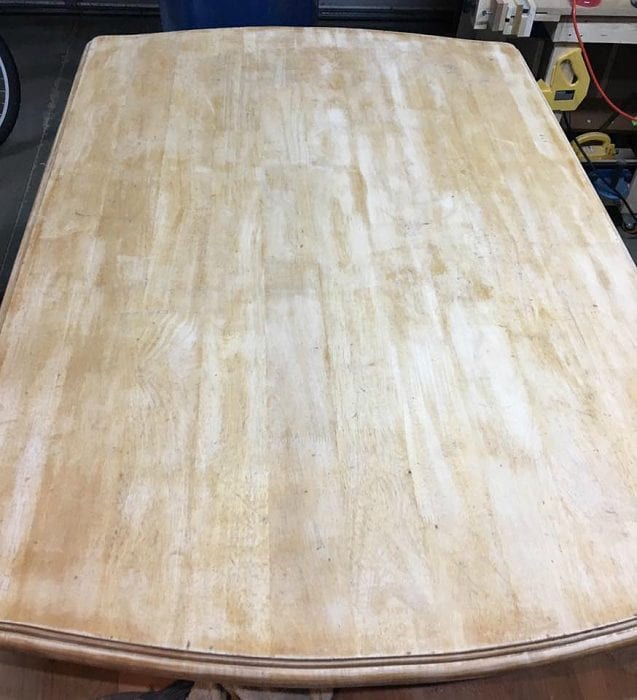 To strip the table I originally tried stripping agent (as you can see on the floor below) but the old varnish was soooo stubborn. So I abandoned that idea and eventually resorted to using a detail sander to remove the finish.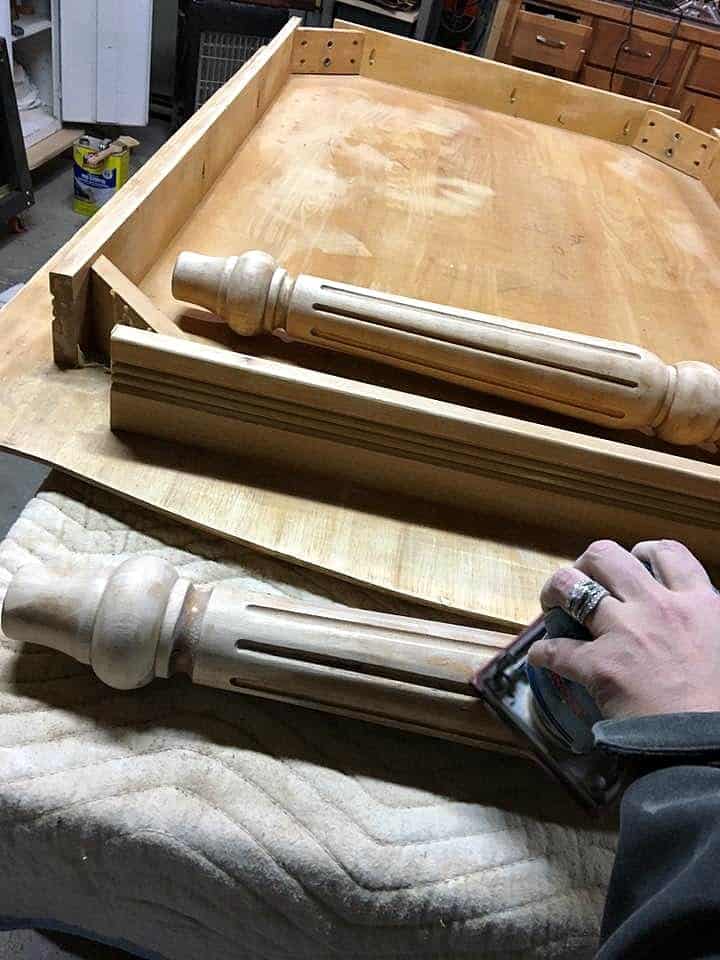 Distressing techniques
First we tried to reduce the appearance of the long gouge and the crazy "W" and "O" scratches. Here is Mark demonstrating a tool that you use to reduce some of the unnatural, obvious scratches. We used a cabinet scraper (also called credit card scraper) to lessen the deep grooves of certain scratches. Then followed by hand sanding with 60 grit sandpaper as best we could.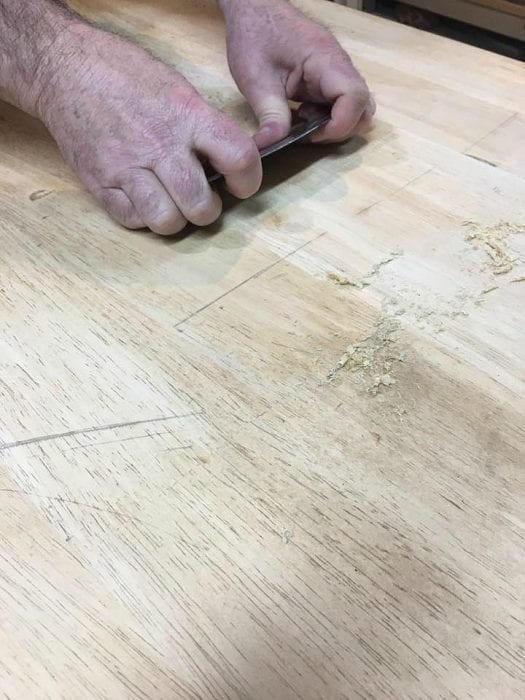 I added my own "faux" distressing which was achieved by a variety of things we had laying around the shop as seen in the pictures below.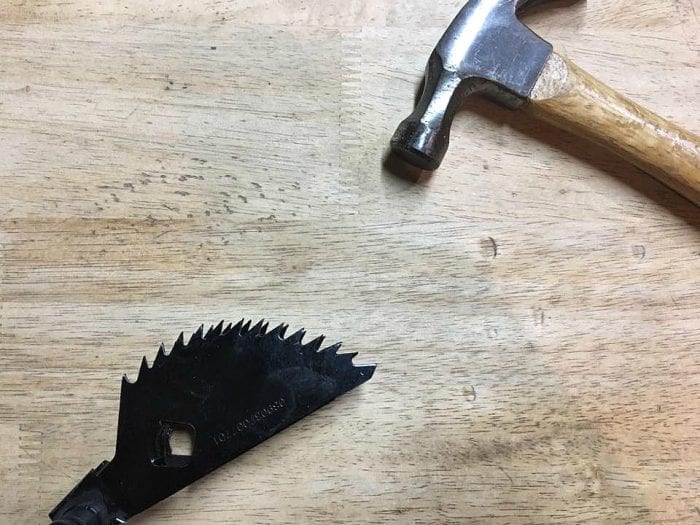 Creating wormholes was fun. I did these in little clusters in various parts of the table. There was zero precision, I just moved my hand and hammered quickly and randomly to get this look: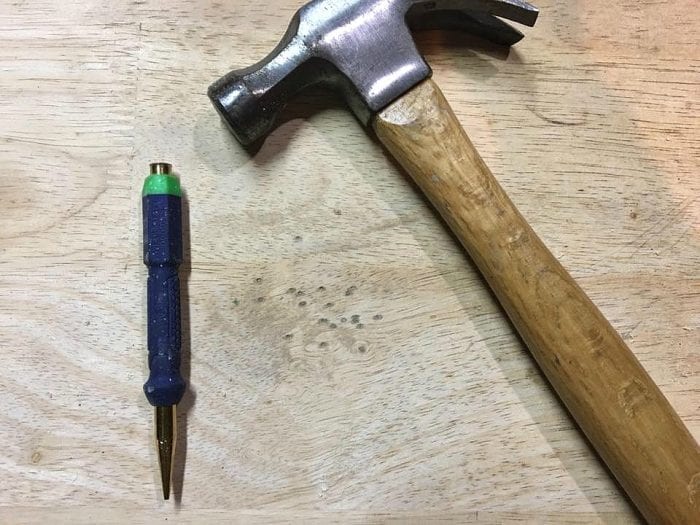 And I banged the tabletop with this big bolt as well as some random hammer spots around the top.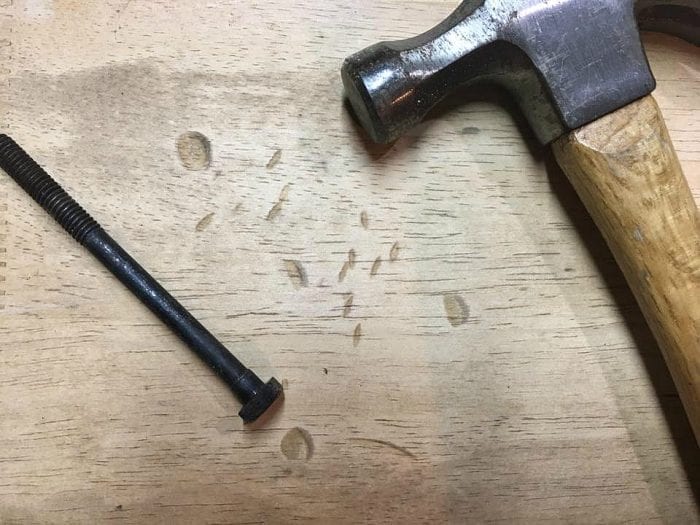 The key is to do this in clusters…not a precise line. The randomness of the distressing was the fun part!
Open the pores of the wood
A tip I learned was that water does an adequate job of opening the pores of the wood and raising the grain. It acts as a pre-stain wood conditioner and improves the evenness of the wood finish you choose.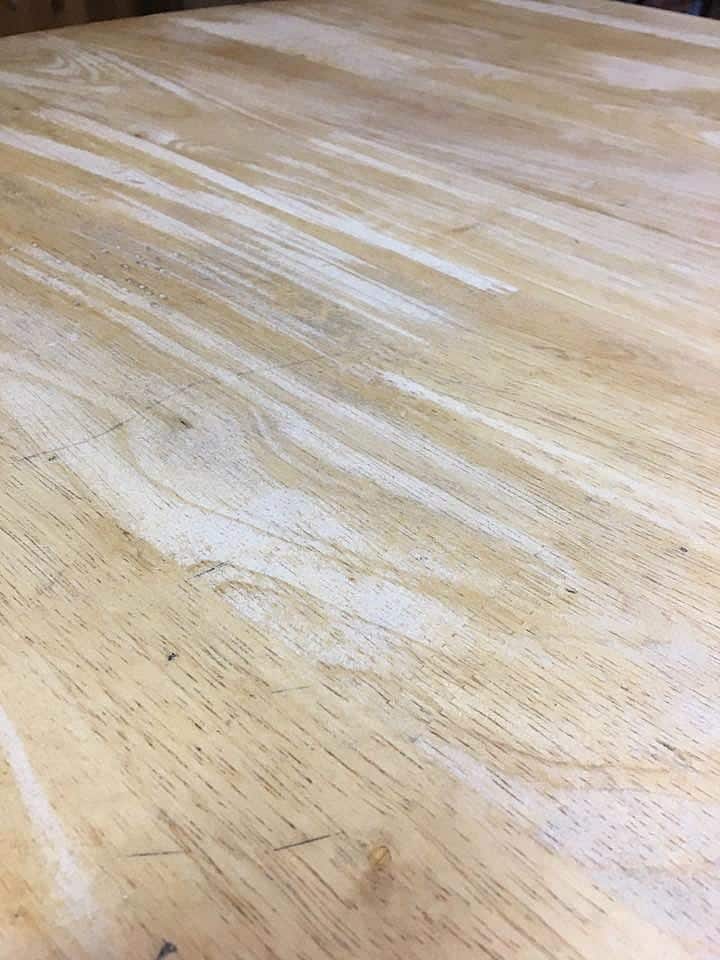 Why I Chose Danish Oil
I wanted a mostly natural wood old world, European style table. I didn't want a dark stain. Only to tone the white oak and enhance the natural wood grain and distressing, Danish Oil in Dark Walnut was the answer.
Danish oil is a lighter application of stain. It tones the wood and darkens the distressed areas. I didn't want a solid color finish. And now I eliminated the orange finish and gave it much richer tone. I sanded lightly in between coats, then applied a water based polyurethane in matte.
Other Weathered Finishes to Try:
I've experimented with several finishes using different products. All different looks and different outcomes using different materials. Which one do you like the best?
Personally I love them all, but I'm happy to finally have a warmer tone wood finish to add to my repertoire. This piece will be for sale in our booth (Update: sold for $450!)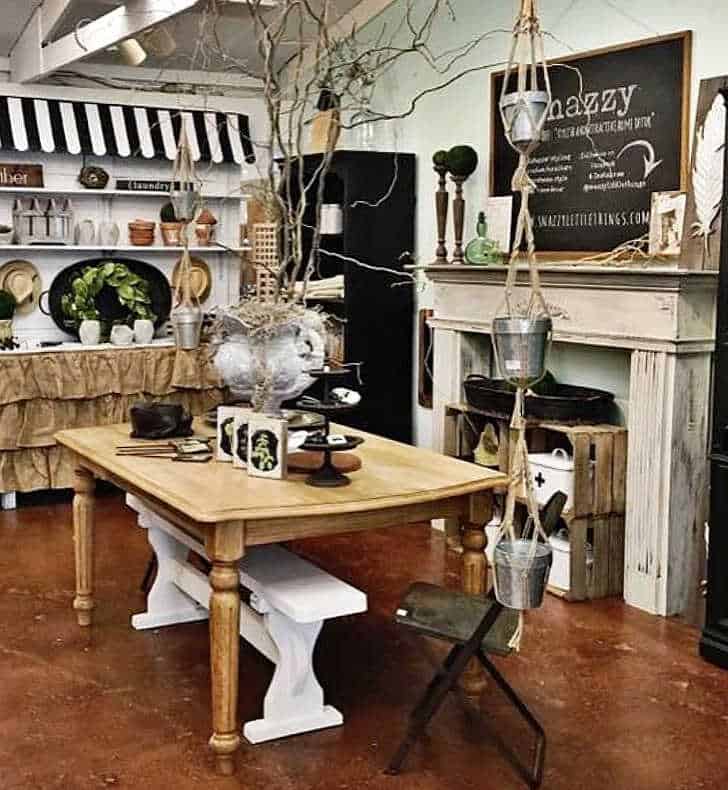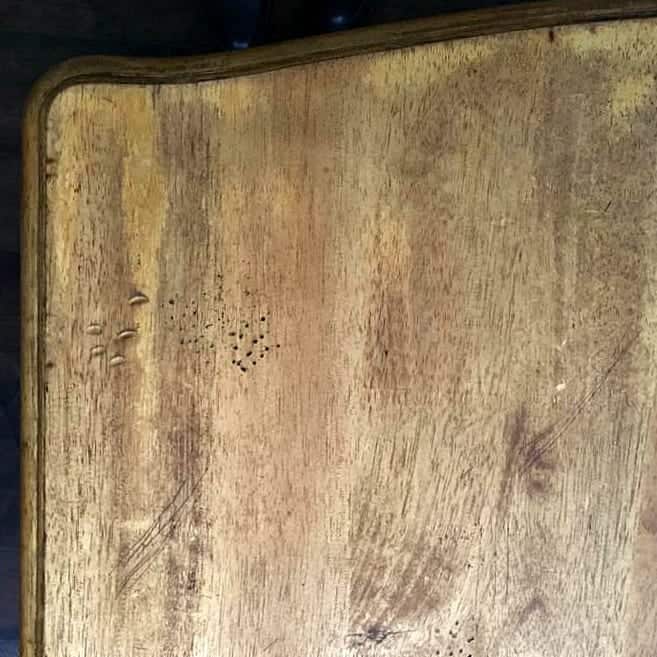 More projects are in the works for our spring markets. Feel free to ask questions or leave a comment below, I love hearing from you.