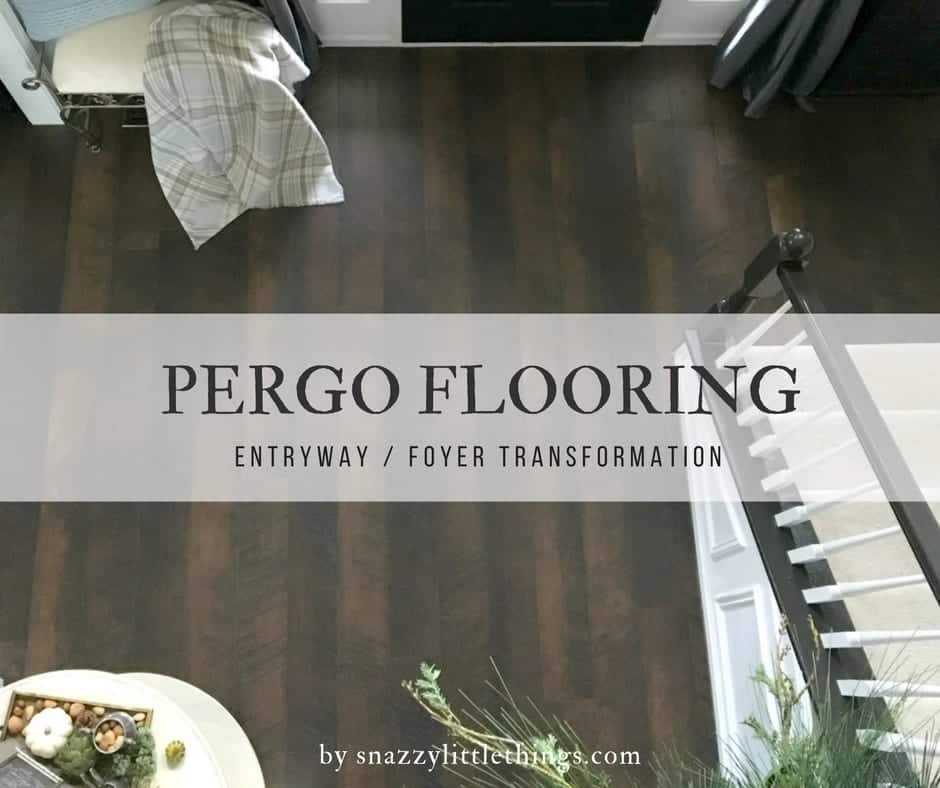 I'm thinking I might have completely missed the boat on holiday decorating this year…I can't complain though. I feel as though I've moved into a brand new house, because today I'm sharing our Pergo flooring foyer reveal! I will certainly have a lot of organizing and cleaning tips in January so I hope you'll stick around.
Almost everything you see in this picture is a result of our DIY efforts! The flooring we chose is from Pergo's new Outlast+ line, and the color is Molasses Maple. I love the color variation when the light hits it just right.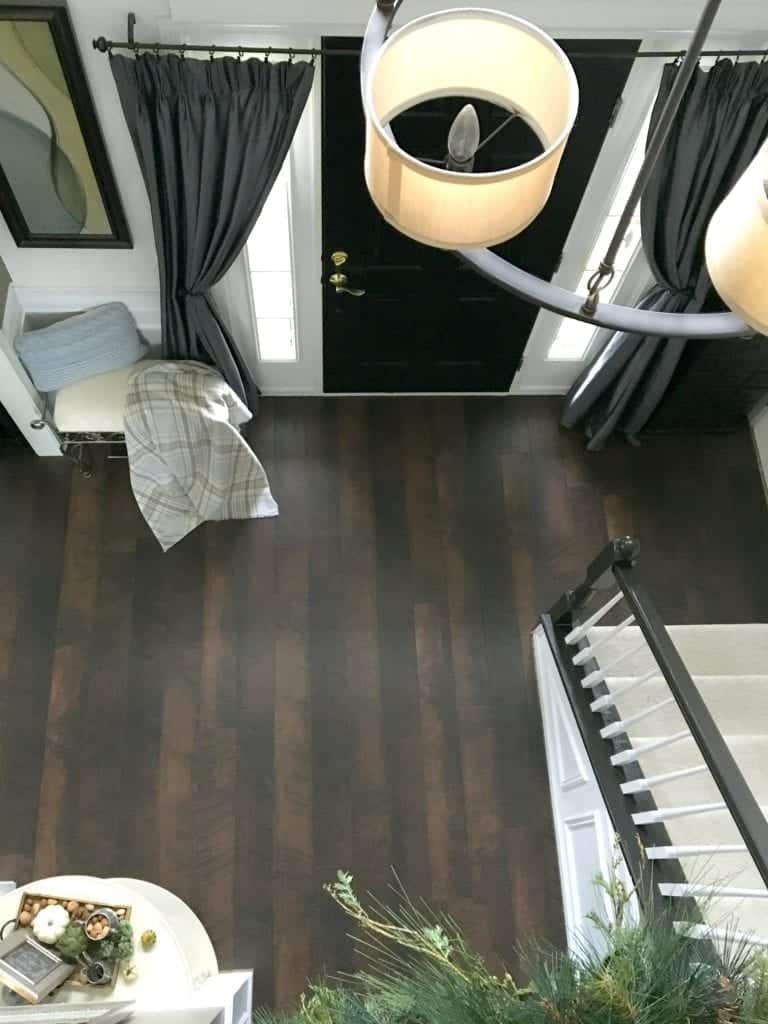 To see the progression of this space since we started, click here to go back in time and see the foyer it its all-white builders-grade glory.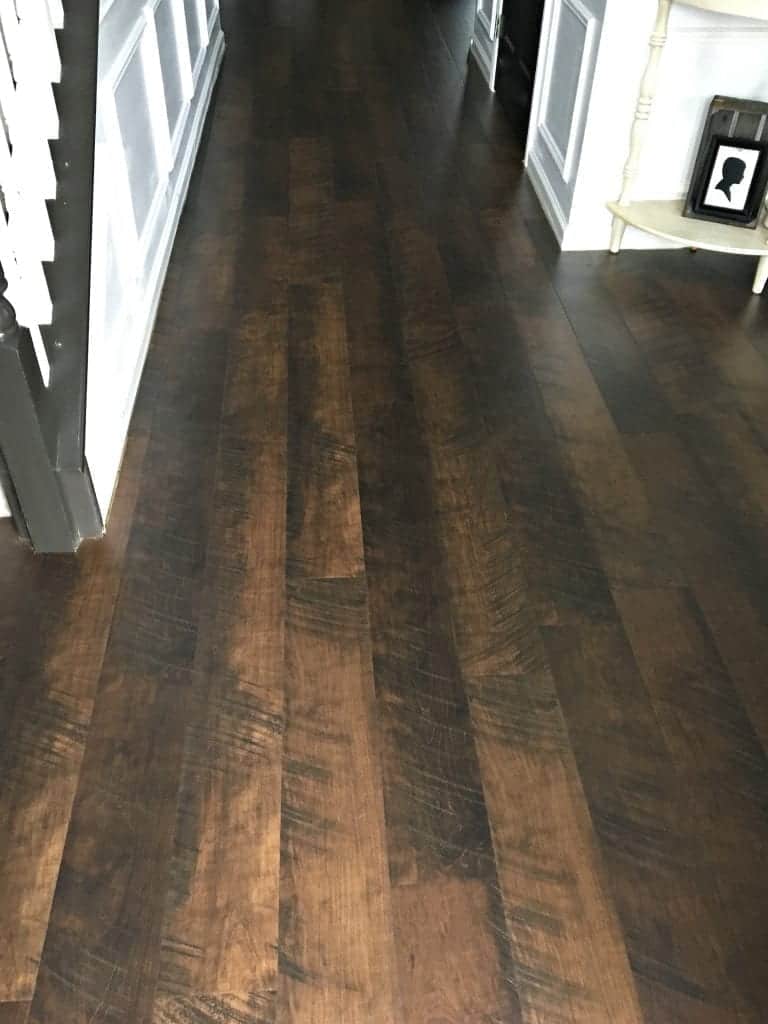 We are 99% finished with this project!  With the exception of two closets and a small powder room, all of the floorboards are now finished. I learned how to cut floorboards without pre-measuring (more on that later). I will do anything in my power to avoid using a tape measure. And? We still have enough Pergo left over that we may be able to update our laundry room! That means we made very few mistakes — even without me measuring.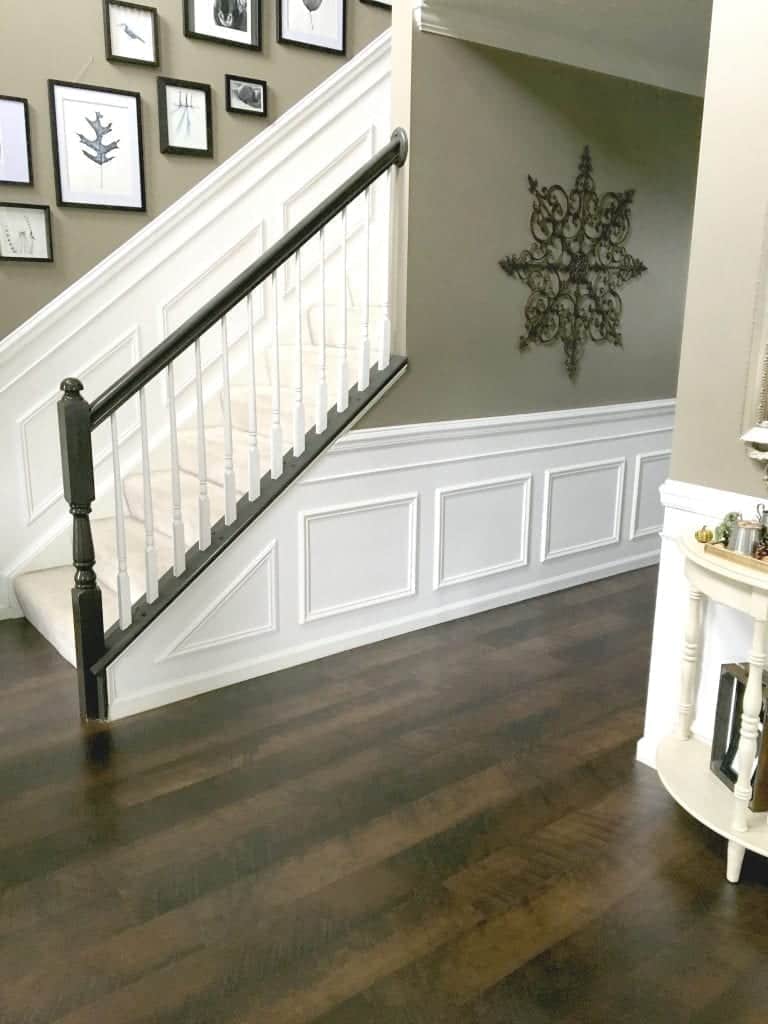 After that, we will lay down trim pieces to close the gaps and finish it off at the wall.
Last night I couldn't get up from a sitting position and my husband had leg cramps from this project…but we both have smiles on our faces. Now we can finally get back to "skipping leg day" and avoiding any movement that resembles a squat :D
In case you missed our previous reveals, check out our kitchen and dining room. Those were the first two rooms that really came together. Our goal was to eliminate our eleven year old carpet and to have one continuous floor that connected all of our rooms.  Below is a virtual tour of the space we're tackling, I did to help us with ordering our Pergo and to get accurate measurements of the space.  Sometimes open concept homes can be tricky to measure.
So it turned out to be about 1,120 square feet.
 Here is a glimpse of where we started. We had to finish the office first (the office is the current storage for the new Pergo boxes so the boards can acclimate to the interior temperature). Once we finished the office and kitchen we were able to tackle the foyer.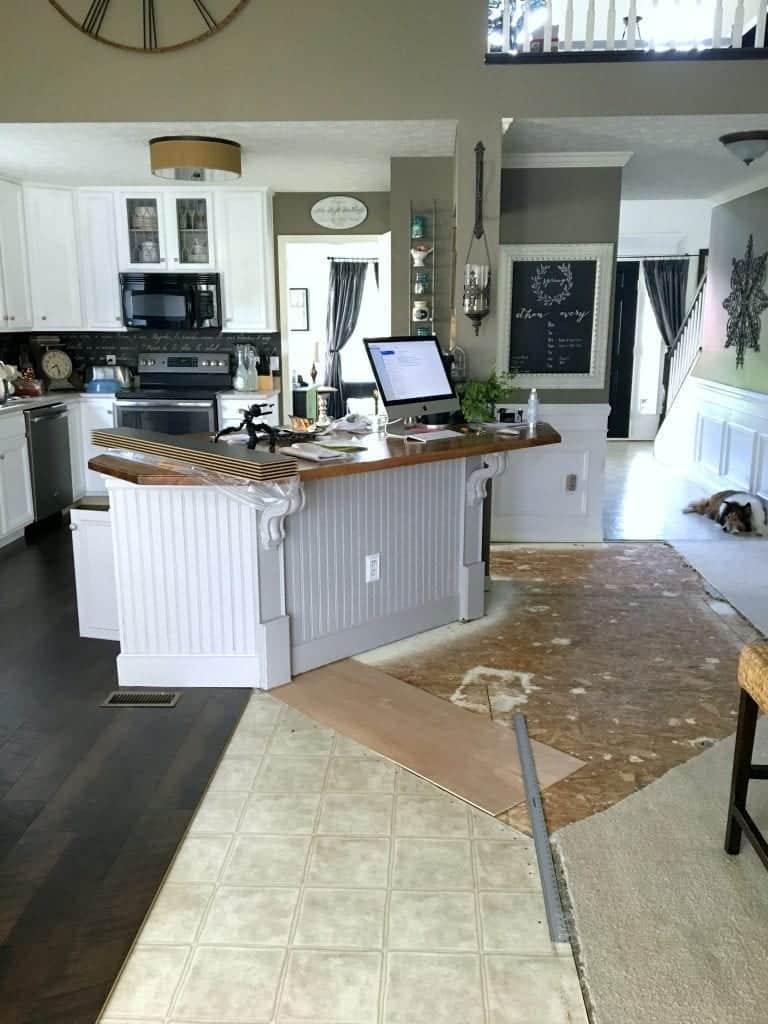 If you're new here, we are in the process of ripping and replacing our entire first floor carpet (and old flooring) with brand new Pergo Outlast+.  This DIY has totally transformed our home.
As we continue finishing off the remaining rooms, I'll be popping in with live video updates, so be sure to follow me on all of my social media channels by clicking the "let's connect" buttons under my picture on the right. I'm planning a Facebook Live, a YouTube walkthrough of my house and Instagram video to come!
Click to see the Pergo flooring kitchen project from the beginning  
Be sure to learn more about Pergo's new Outlast+ line on their social media channels:

I received Pergo Outlast+ laminate flooring and accessories for my home free of charge to facilitate my review.