10 Reasons to Learn the Art of Furniture Refinishing
There are so many reasons to teach yourself the art of furniture repurposing. These days there is so much support, and SO much information on the web that it's become a nearly foolproof way to save money, start a fun new hobby or even launch a lucrative side hustle that can turn into a career!
My friend and "expert" in the furniture refinishing field is Jen Crider, the blogger behind Girl in the Garage. I'm so proud to say that Jen is now the best selling author with her new book, "Amazing Furniture Makeovers".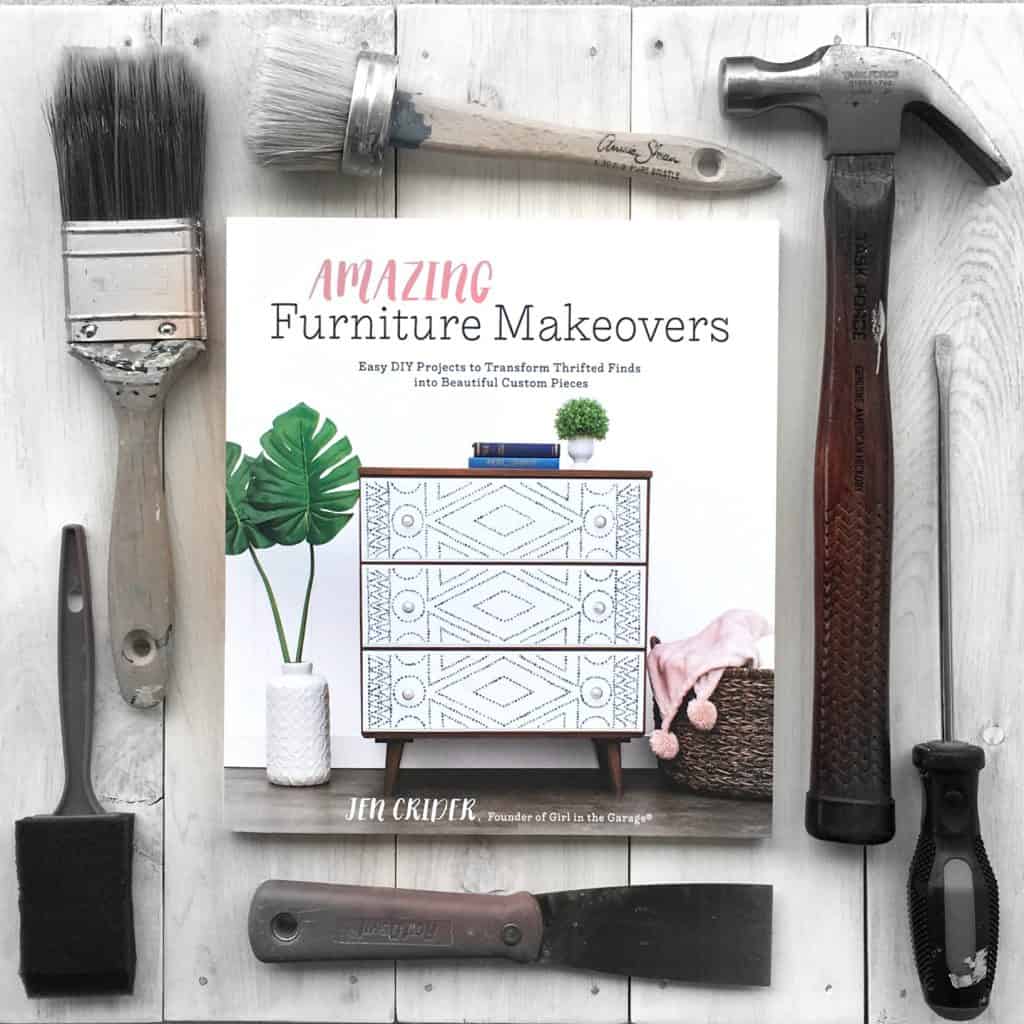 I met Jen back in 2012 when we were a part of a 30-person DIY home decor "tribe". We were bloggers that were very focused on furniture repurposing projects. This group of ladies pushed me out of my comfort zone and gave me the courage to try new techniques and paint mediums. I learned SO much from this group, and since then, the furniture painting "industry" has exploded with newly inspired entrepreneurs, new paints and new finishes.
Here are just a few of my favorites from Jen's book: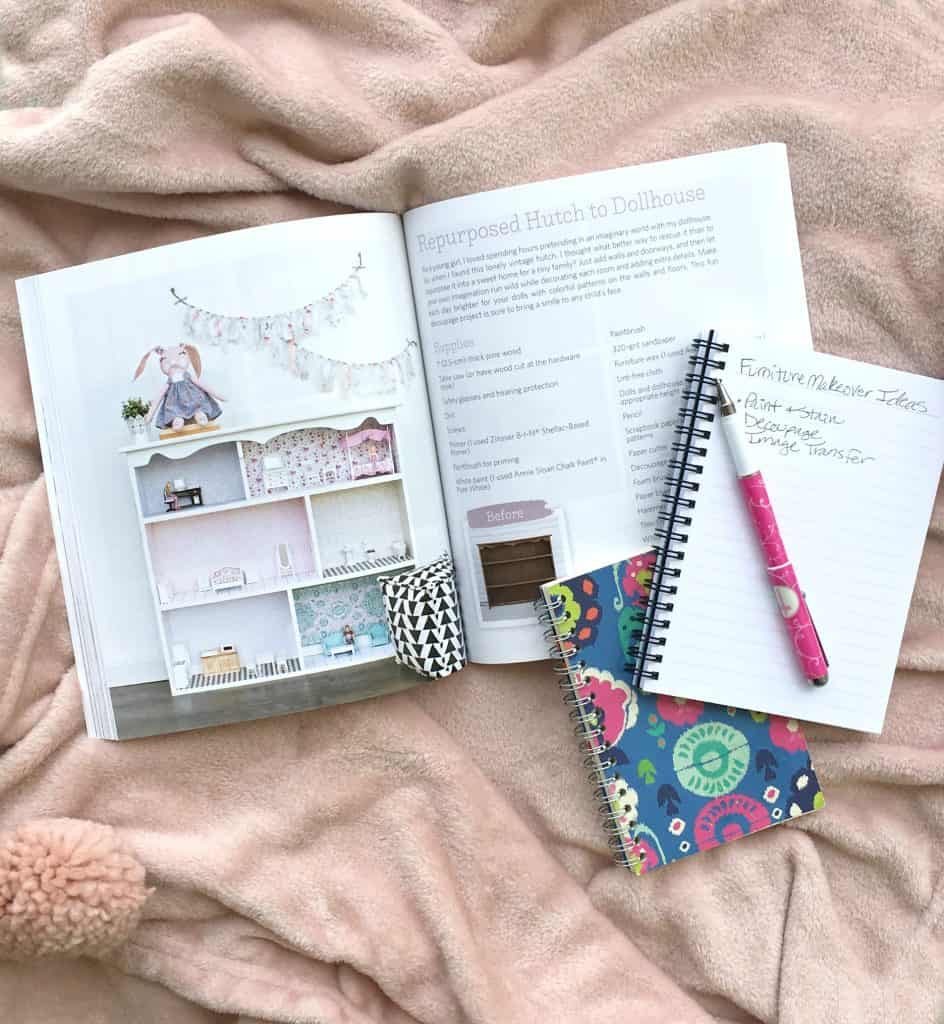 From image transfers, to upholstery, decoupage and paint, this beautiful book is filled with so many great ideas. Jen's style is on-trend, her writing style is easy to read and she offers unbelievable before-and-after photos. Advanced skills are more accessible to all levels, she breaks down each process with step-by-step visuals with simple, clear instructions.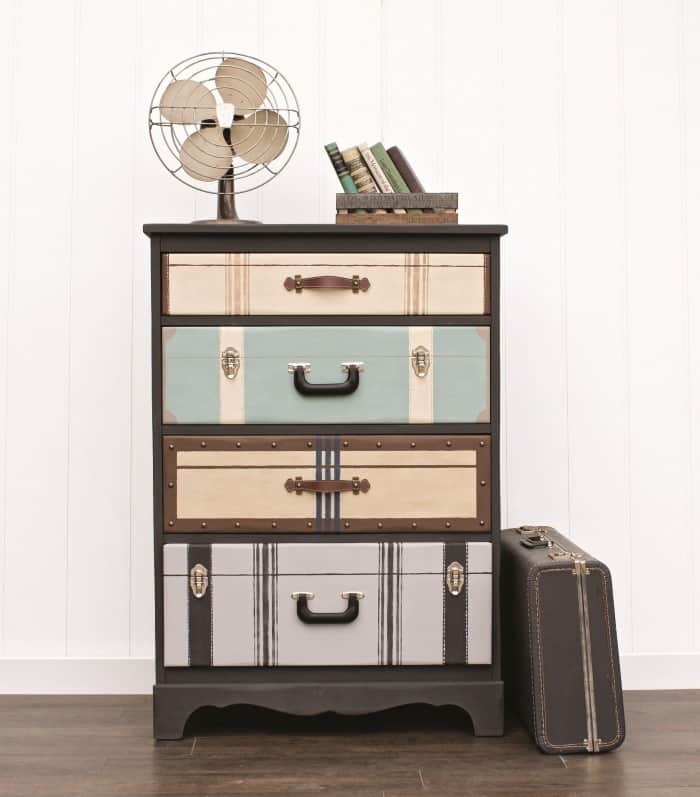 Even this amazing "luggage" dresser is broken down in simple, step by step instructions. I LOVE this makeover!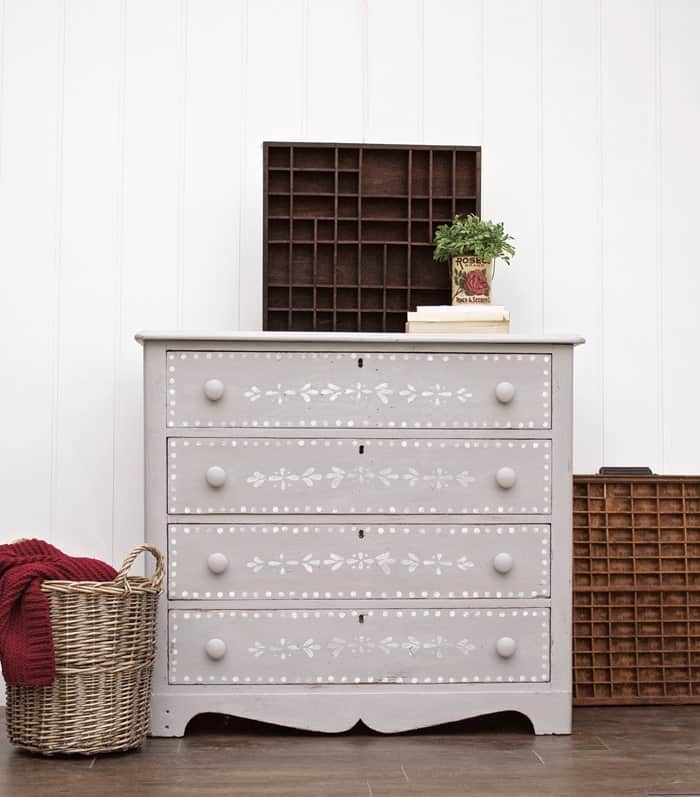 Once you learn the skills to renew furniture…it's truly one of the most rewarding and fun DIY projects you'll ever take on.
10 Reasons to Learn the Art of Furniture Refinishing
Some of the benefits of giving furniture repurposing a try:
Low-Cost, High Impact: Beautiful furniture is no longer a budget breaker as you learn the skills to fix or design your very own pieces.
And…It Adds Value: Most people who learn the art of furniture repurposing begin to take on more sophisticated home improvement projects (like painting kitchen cabinets, painting banisters). If done well, these projects can add value to your home.
You Recognize GOOD Design: You start to understand how furniture is made, and you recognize good design when you see it.
More Choices: Your have a leg up! Your furniture selection widens exponentially when you see secondhand items in a brand new light.
Resourceful & Adaptable: You can easily fix broken pieces, change colors or styles as trends change or as your tastes evolve over time.
Perfectly Customized For Your Home: You no longer have to settle for store-bought furniture. You are now able to find furniture that is the perfect size and perfect color for your space.
You Become an Expert: You'll develop a style that works for you. AND you'll understand many finishes and how to acheive them. Soon you'll be able to tackle most any project that comes along.
A Perfect Teen Job: This is a PERFECT summer job for teens with amazing profits. A $10 thrifted table can easily become a $150 profit for teens, which sometimes represents and entire week's pay!
Create Your Own Side Hustle: Furniture repurposing is the ground floor for starting your own creative business.
Developing a Tribe: If you start a blog, you'll get to hang with other like-minded creatives and possibly gain the attention of companies willing to support your creative business.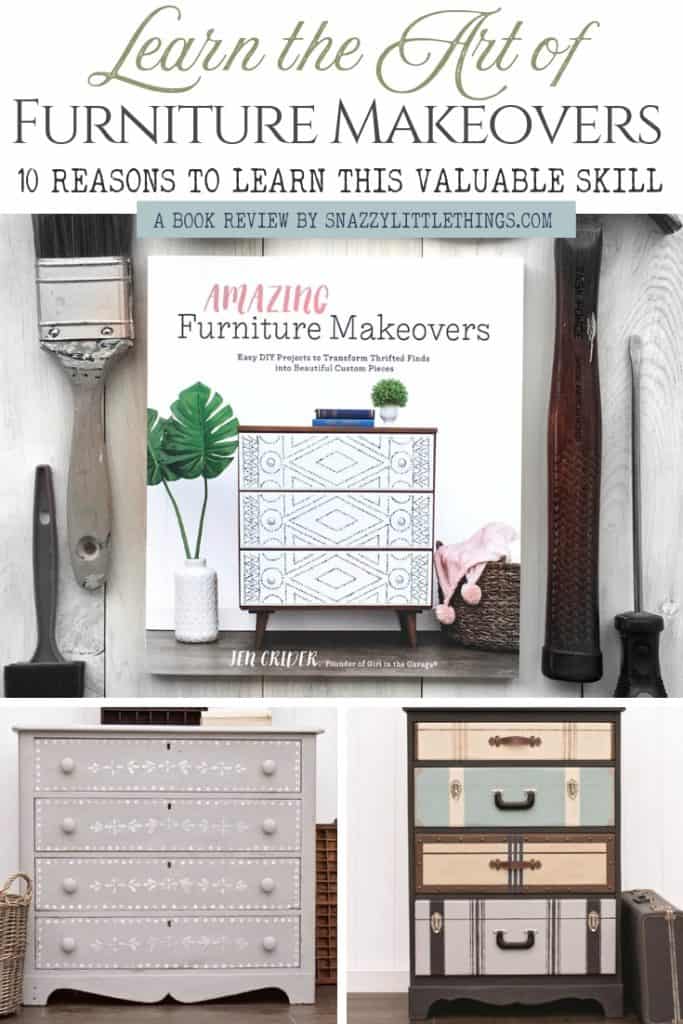 What's In MY Garage?
I'm so excited to share some of the pieces that I picked up…waiting for me in my garage.
Bought for $90! A deep clean and some minor repairs is all this really needs.

Very rusty, so this needs some TLC. We may add wood on the bottom rung. A good work table for me.

Bought this for $40! I want to restore the natural wood and add legs. The legs alone will be will over $100 in repair.
As you can see I'm gravitating towards French-Indusrial chic style that I've always loved so much. Some furniture will be for sale and available for local pickup, or in our local antique booth. We may even keep some pieces since we are starting over in our new home.
Thank you to Jen for all of her inspiration, I'm so proud of my talented friend. Be sure to pick up your copy and learn the art of furniture repurposing. Jen has already inspired thousands and she's definitely inspired me to jump back into the playing field and start a few new furniture projects of my own!