Building The Esquire House, 2005
If you're new here, welcome! This post was written in 2012, and represents the beginning of my blog and a new chapter in my life. I hope to inspire you and give you lots of new decorating ideas. Here are some pictures from 2005 of my home construction, the floor plan was called The Esquire. This was a huge leap moving from a tiny, 900 square foot ranch!
Building The Esquire
Home Construction, 2005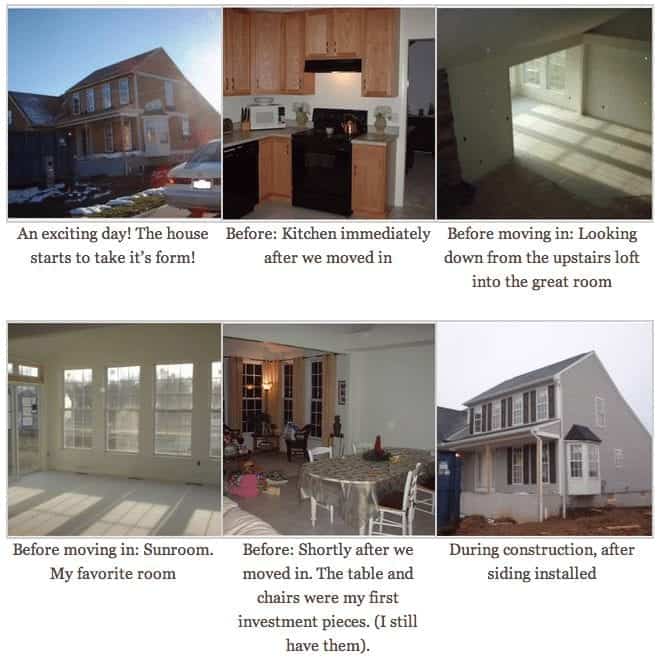 I upgraded square footage with no fancy upgrades, making it around 3,000 square feet of a blank, white canvas.
This new space was extremely overwhelming from a decorating perspective. Daycare costs alone were about $1000 per month for both kids, so my home decor budget was non-existent for about seven years.
My daughter was 1 1/2, and her brother was 5 years old. Three months after I moved in, I suddenly became a single parent and was going through a divorce. I lived here from 2005-2012 as a single Mom just trying to keep our heads above water so I was content just living in the space as-is….
…and I raised my kids.
…and I repurposed furniture.
…and in 2012 I started a blog.
…and I focused on one wall, or one room at a time.
And then I met Mark who gave me the courage to pick up a power tool and to make this home my canvas.
I hope to inspire you to try new things, to be resourceful, to learn to use power tools…and to craft a beautiful life.