Our master closet was a big selling point when we sold our previous house. If nothing else, it looked glamorous and creative.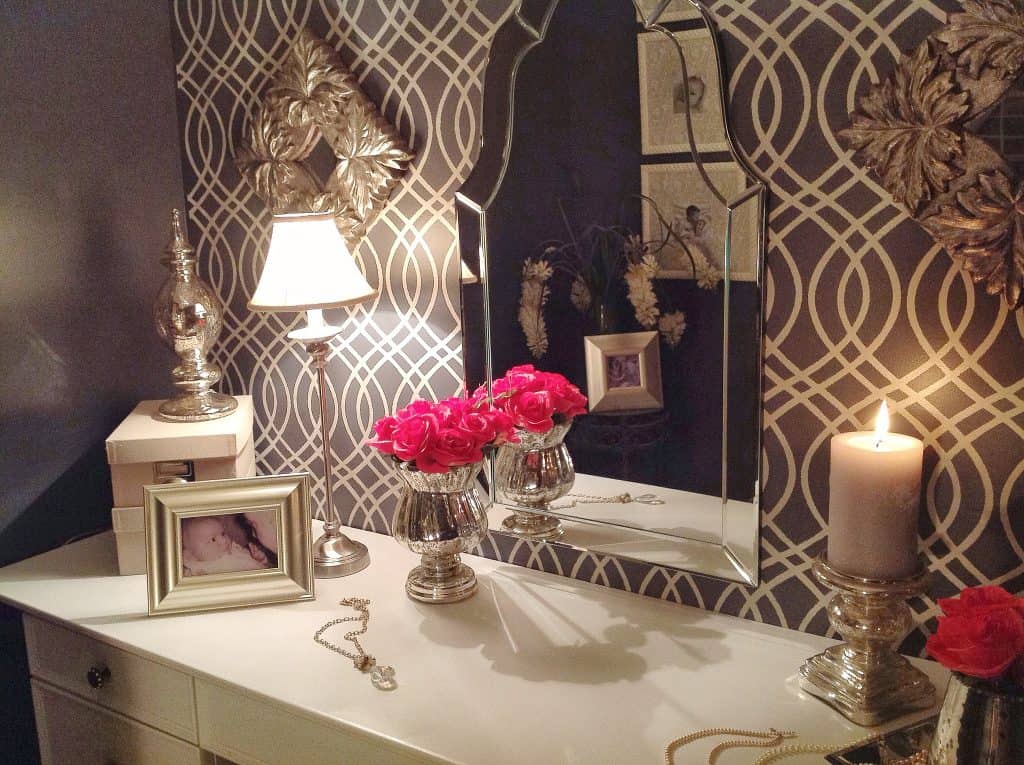 I was inspired by the pattern of a stencil I had purchased to decorate with a twist of Old Hollywood Glam. I've always loved the art deco, glamorous look, but I don't typically decorate that way. Because this room is separate from the rest of the house, I decided to have a little fun with it and dive in head first into glammy motif.
For whatever reason this master bedroom arrangement never quite worked for us. Below is a picture of my closet (before). Now that we moved, we love our current master bedroom setup and realized just how tiny this previous master bedroom was. Be sure to subscribe to follow our remodels in our new house!
The closet was often overflowing and served as a dumping ground for unfolded laundry. I'd also call this my "private office" and would hide in there for work conference calls. It was the only room that was truly MINE for a long time.
There are no windows in this space and we had to add lighting. I always felt the master got the short straw in terms of floor space since the rest of the house was open concept.
Why transform this into a dressing room? The positives:
This room solved a number of privacy issues in our house.
The bathroom vanity is now clean – all of my beauty products have been moved. Major convenience!
At 3:00 when my kids come bursting through the door after school, this was my hiding place! I conducted business calls here during the day if total privacy was needed.
For a shimmery, Old Hollywood glam base coat, I applied this. Not your typical wall paint, eh?
Then I decided to use a brush in a criss-cross pattern to achieve a brushed metal effect, which is exactly what I wanted. (Old Hollywood Glam…ya see?)
I chose Benjamin Moore's "Day's End" for the dark coat.
Shimmer…just what I wanted.
Dead center is where you start to stencil, then you work right and left until the wall is filled.
How to get close to the ceiling:
The Teardrop Trellis stencil kit comes with an edge stencil to get closer to the ceiling I filled the white space at the top later with the dark paint which I'll show you below.
How to line up the stencil:
BELOW: See those "slits" in the stencil design? Those help you line up the stencil design perfectly with the next application.
Here, I'm filling in that white space at the ceiling. Eventually you do this all around the entire perimeter of the wall to give a nice crisp edge. See what I mean? It gives it a finished look.
Corners:
Push your stencil into the corners and roll. That's how you stencil a corner. It applies surprisingly well.
Once dry, I applied a line of tape where the stencil design stops and filled in with a clean line of paint.
I shopped my home to decorate this space:
With the stenciling done, I altered a few items around my house for my glamour dressing room using the DecoArt Paint.
Mr. Snazzy built a CUSTOM vanity. I'm so proud and thankful for his handiwork. We used autobody spray paint on poplar wood to ensure that the paint was heavy duty. Lots of coats give it a hi-gloss finish.
I'm so excited about this project and loved sharing, hopefully you found the photos of the process helpful.