Why Build a She-Shed? Why NOT!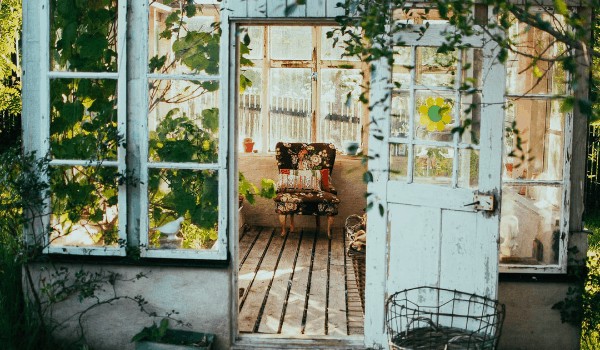 Thanks to the novel coronavirus, most of us are spending more time at home than ever. And while some might not be so bothered by the idea, those who don't live alone might be desperate for some time by themselves to recharge. Whether you're a mom who's suddenly tasked with the responsibilities of homeschooling or you're trying in vain to work remotely while in the presence of others, this "new normal" can certainly be disruptive.
However, if you have some extra backyard space and like the idea of taking on a home improvement project, there might be an outdoor solution to your problem. Instead of retreating to the bathroom or your bedroom for a moment's peace, you can start building a she-shed and enjoy some solitude while still being accessible when needed.
What's a She-Shed and Why Do I Need One?
A shed is defined as a single-story structure, typically located in a back garden or on an allotment and often used for storage or as a workshop. "She-sheds" are the foil to the popular "man caves" of the early aughts — they were meant to be a place where women could enjoy a brief respite from partners, kids, work responsibilities, and other sources of stress. Around 37% of families say vacations make them happy, but a she-shed can provide a short escape that can allow many to recharge as needed throughout the day.
Instead of being located in a dark den (like a man cave), she-sheds are beautifully styled outbuildings. They can be used for everything from relaxing and napping to yoga sessions, crafting, reading, gardening, and more. According to Outdoor Living Today, 80% of women would like to have their own she-shed — and creating one may be easier than you think.
The Basics of Building a She-Shed
That said, you may need some construction skills (or help from people who possess them) to make your she-shed dreams come true. You may not need a building permit for the structure, depending on its dimensions, but you'll want to create a plan for your she-shed and find out whether you need to get approval before starting your project. Usually, you can build a she-shed for under or around $1,000 — though if you already have a garden shed, you'll have the advantage of using that existing building for your project.
If you're starting from scratch, you may need to level your yard; some people construct a basic foundation to alleviate moisture, even if it isn't technically necessary. You can even buy she-shed kits that will help you easily construct the structure — or you can buy a prefabricated one to make things even easier.
From there, you can paint and furnish (the fun part!). Since the structure will be separate from your home, you don't necessarily have to follow the already defined aesthetics of your own interior. Instead, you can choose what you like most and get really creative. You'll want to furnish your she-shed with your intended purpose in mind. You'll probably want to include a coffee table and chairs, but you may also want a desk, a futon or daybed, or a bookshelf in yours to promote your favorite activities.
Be sure to add lighting, especially if you plan to use the she-shed in the evenings. Although the U.S. Department of Energy estimates that the average American home spends 5% to 10% of its budget on lighting, you may not have an electricity hookup from your home in your she-shed; you could easily use battery-powered or solar-powered fixtures instead to give this space a welcoming feel.
Finally, don't forget the beautiful touches! Antique shops, garage sales, and online vendors can provide all sorts of treasures for this space. You may also want to add gardening elements, a small hammock, and even a welcome mat at the front door to set the scene for this vacation-like environment.
Technically, a she-shed can be used by anyone — regardless of gender identity, age, or home situation. The important part is that this space is truly yours to enjoy. Not only can building and using this structure be a great project to take on during the pandemic, but it's a wonderful way to prioritize self-care at all times.