When I think about how to go about applying a specialty paint finish, I first consider how an authentically aged piece has evolved over time. Driftwood is a result of wearing and weathering — so in this case, it's deep within the wood itself.  What seemed counter-intuitive to me was adding too many layers to achieve this look. If I see a paint finish with too many layers…I feel like it's too "made up". Kind of similar to how you feel when you apply too much makeup on your face. The more you apply, the greater the chance for a "gummy" finish or chipping as well.
There are many, many methods of creating a driftwood finish, and so many of them are beautiful. Recently we built our own mock-Restoration Hardware Monastery table, and I wanted to achieve the same weathered finish with a little bit of grey, driftwoody tones.
So this is the approach we too for achieving this finish on plain pine – using stains that soak into the wood.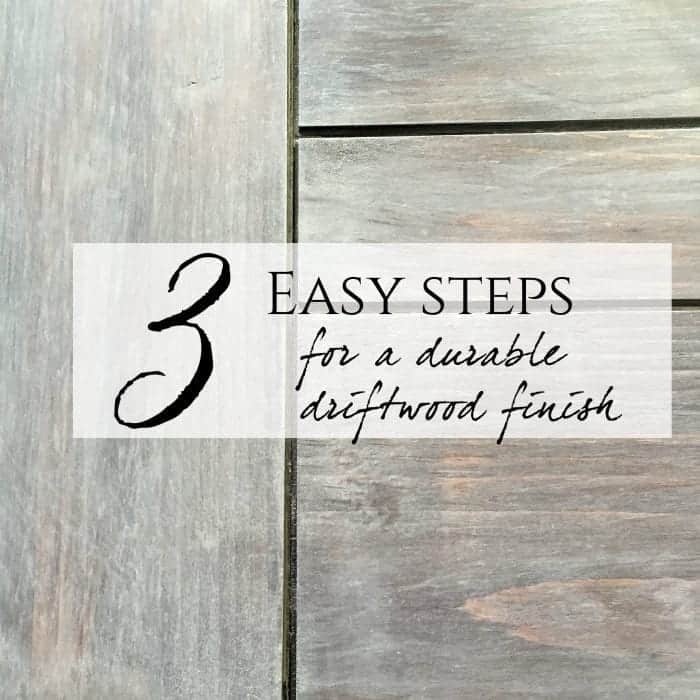 Three years ago, my house was a blank canvas with virtually no furniture. As I painted and repurposed my way to a furnished home, I've settled on the fact that I love a mostly "curated and collected" look, with antiques and Old World finishes, and I love creating dramatic feature walls. I also confess that Restoration Hardware is what our makes our hearts go aflutter. This summer our woodshop was created, and now our hobby for creating pretty things is in overdrive.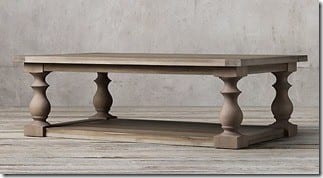 My inspiration: Restoration Hardware Monastery Coffee Table
---
The Tutorial:
Step 1:  Darken Your Wood
In our case, we were starting with plain, new pine. By darkening the wood, it makes it appear older, and the water based stain soaks into the wood and dries very quickly. I love that it doesn't feel tacky when it's dry, which is what you sometimes get when you apply an oil based stain. In our woodshop this is our "knocked-off" Restoration Hardware Monastery Coffee Table. At this point, the wood was sanded and ready for the next step.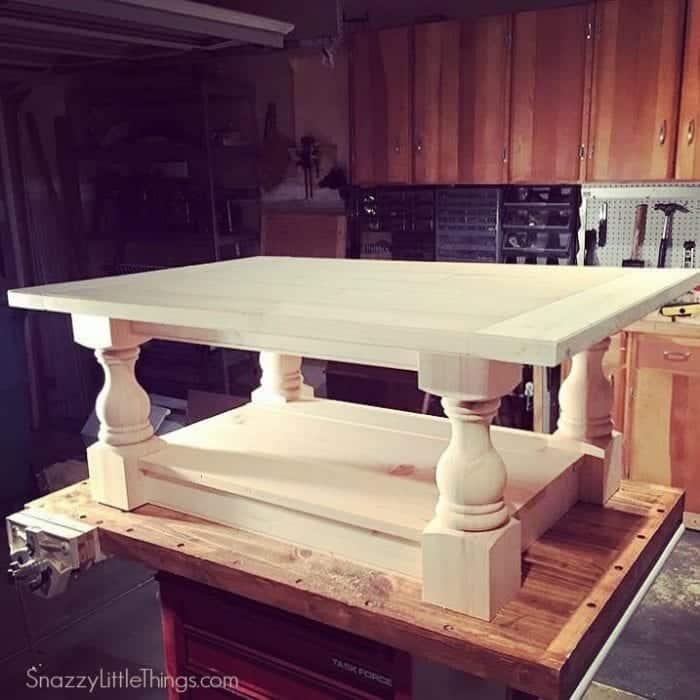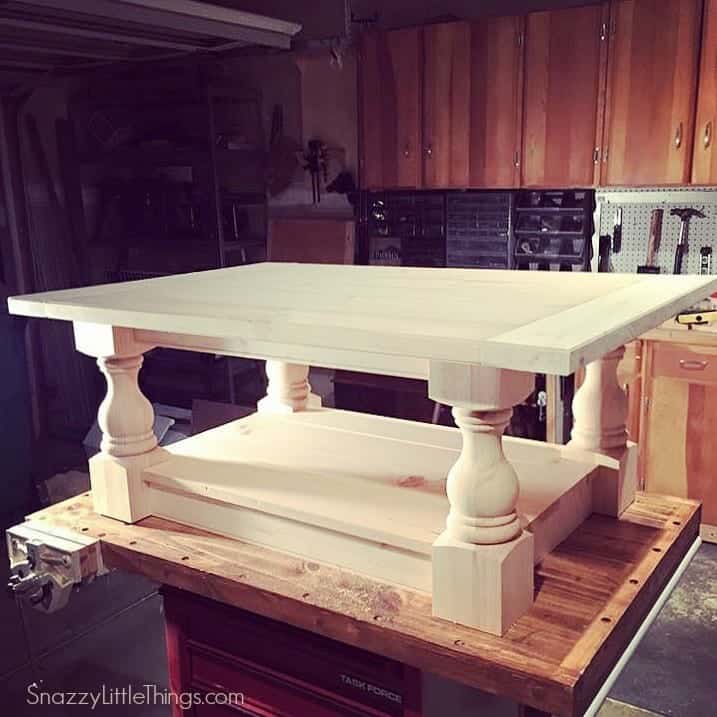 Above:  Our version of the Restoration Hardware Monastery Coffee Table (knocked off, before staining)
You can choose any dark stain, but my personal favorite is Varathane Dark Walnut, a water based stain. We brushed it on heavily with a nylon brush and let sit for about 5 minutes.  Then we rubbed it into the wood by hand, removing excess and ensuring that the wood was completely covered.  Let dry overnight (AND BE SURE TO WEAR RUBBER GLOVES).
Tip! If you do get stain on your hands, I've discovered that nailpolish remover works wonders!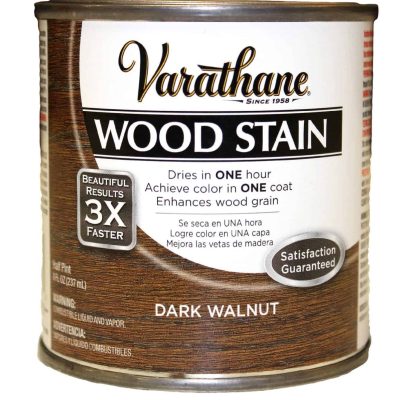 My favorite stain
Step 2:  Apply the Driftwood Effect
Next, apply a thick layer of Sunbleached stain with a synthetic brush, overtop of your dark stain. I've done this one of two ways:
I let soak into the wood for not more than 5 minutes. Then, use a dry cloth to evenly and lightly wipe Sunbleached stain into the wood (by hand…again, gloves!) and remove the excess.  The goal is not to rub hard, something I discovered is that it will remove portions of your dark walnut stain underneath — you want to use the cloth (in place of the brush) to give it an even finish overtop of the walnut stain.  In the end we liked our finish with the variation of color.

I've also tried applying the stain and just leaving it dry for 24 hours.  I love both looks.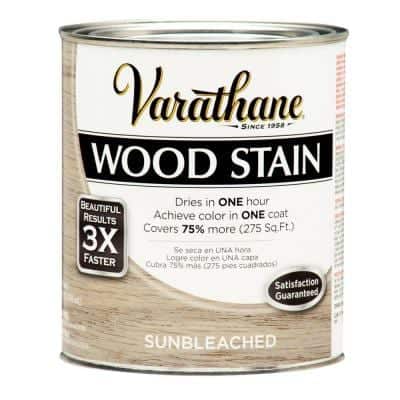 My new, favorite stain
SPECIAL EFFECT TIP!
After Step 2 is complete, if you want more variation of colors, you can "dry brush" the Sunbleached finish in a cross-hatch application (in quick "X" patterns) using a barely-wet synthetic brush. Make sure the brush is MOSTLY dry.  My method: I would cross hatch followed by dabbing with my wet cloth. This is the effect that you get — a beautiful driftwood finish.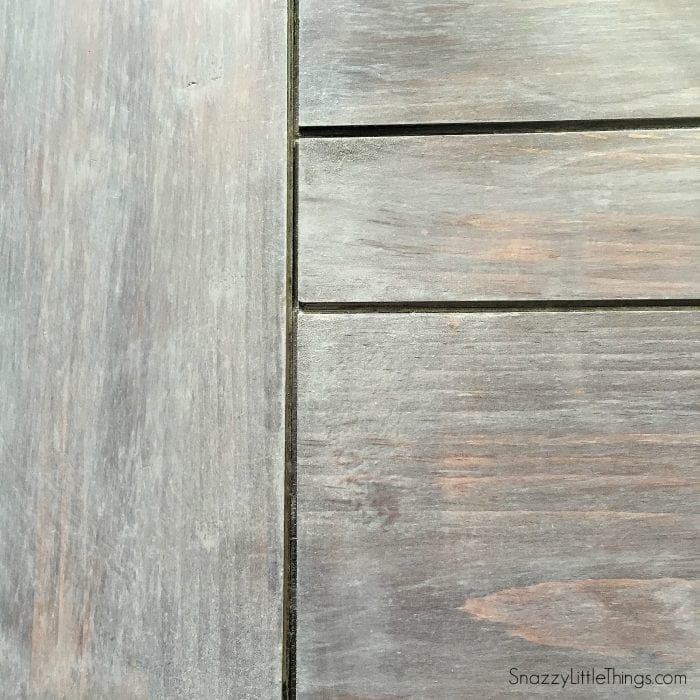 See how you can see a nice combination of light and dark wood tones showing through? And just a few "dabs" and "cross-hatch" effects are visible, too.
Step 3: Seal with a Topcoat
Congratulations! You've finally achieved the perfect driftwood look. Now, there is just ONE more–but very, very important (and simple) last step. Apply a clear water-based, matte polyurethane. This particular brand has a milky white finish at first. BUT DON'T PANIC!! It dries clear. I chose matte to keep it looking as close to natural driftwood as possible.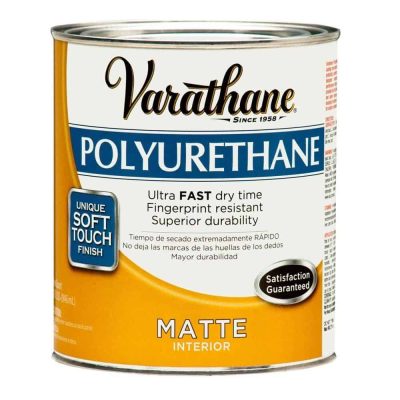 Do you notice a theme with my choice of finishes? They are ALL water based. My reason? Water-based stains dry much faster than oil based, and they have a reduced chance of yellowing over time. I am not paid by Rust-o-leum…I simply love their products since they are so easy to work with (and who doesn't love fast-drying finishes?)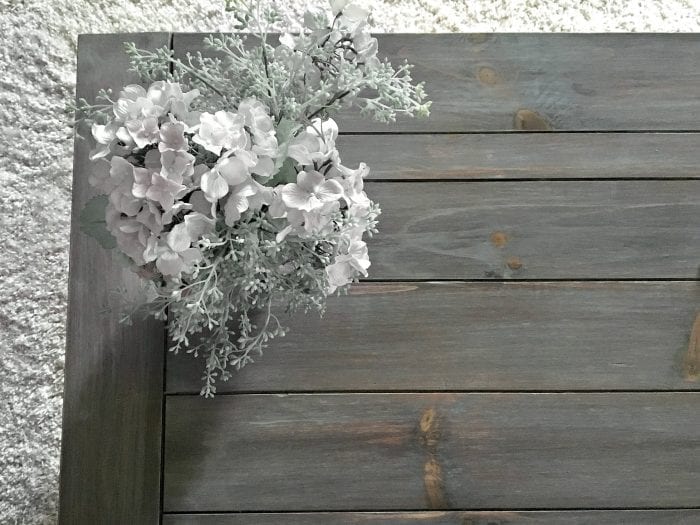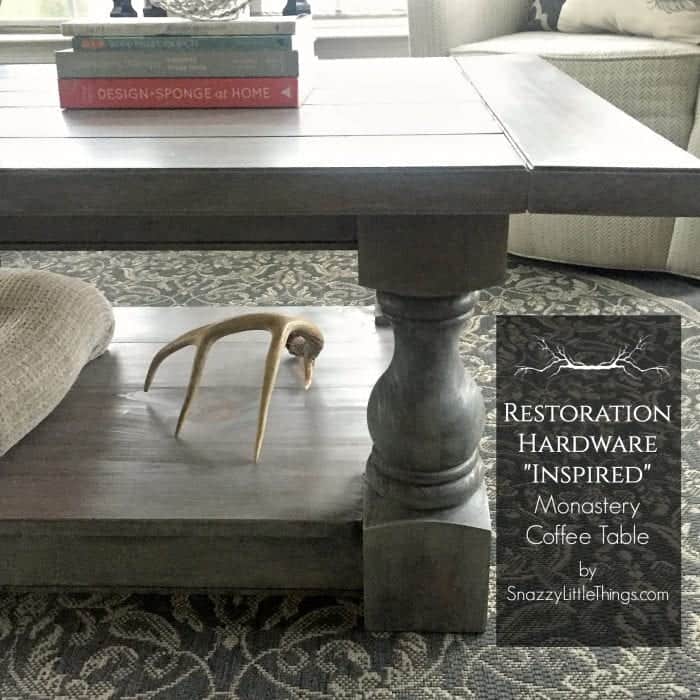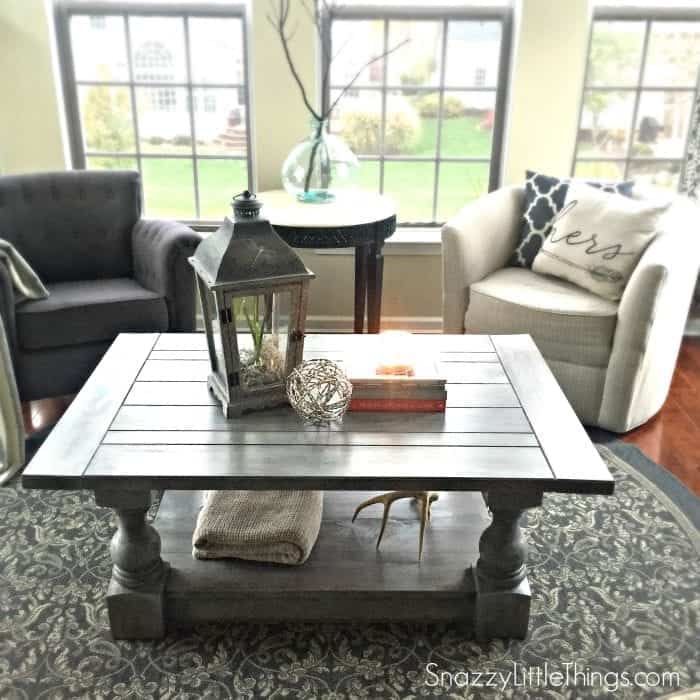 Free building plans and printables are available for subscribers to my blog.
Hope you'll follow along with us this year as we experiment with more furniture builds and fun paint finishes!