Affiliate links are included throughout this post. And thank you to DecoArt and Homeright for partnering with me on this project!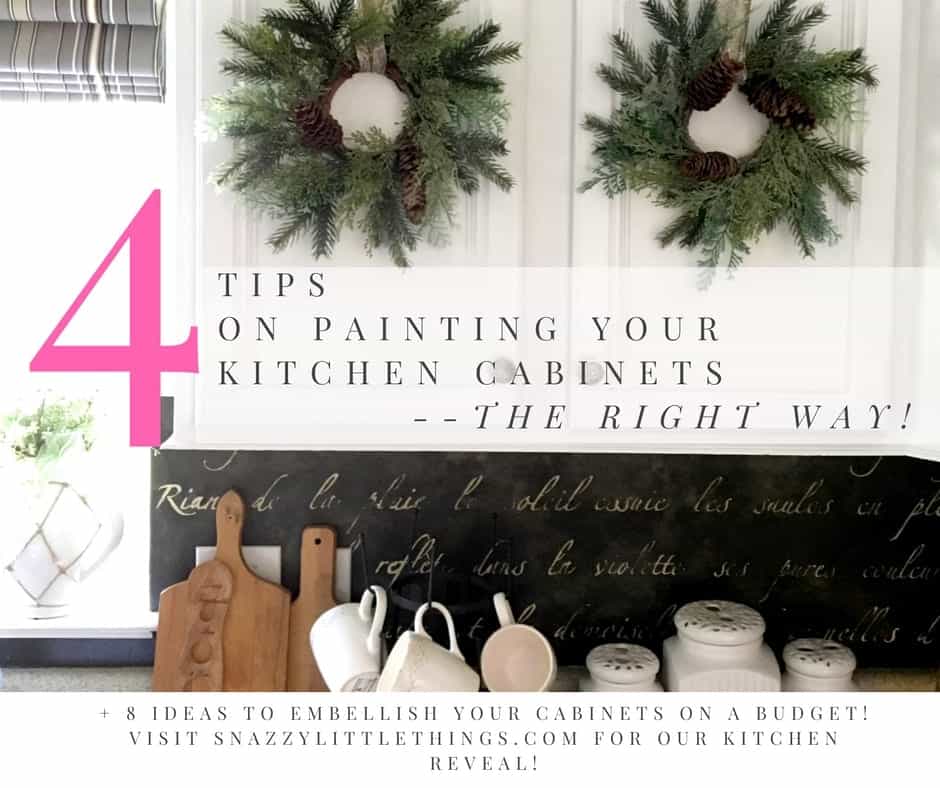 Painting Kitchen Cabinets
…the right way!
After painting numerous furniture pieces over the years many of those pieces were considered "high traffic" pieces – ones where the paint durability was key. I can't think of a higher traffic piece of "furniture" than our kitchen cabinets. So today I'll share some insights from the perspective of an expert furniture refinisher and offer detailed instructions on how to properly prep cabinets, what paint you should use. I'll also provide you with ideas to think "outside of the box" to make your builders-grade cabinets look spectacular using a few simple, inexpensive embellishments.
There are hundreds of tutorials about using a latex enamel paint for a project like this. But there are reasons to avoid latex which I'll be sharing, and why you should consider using enamel paints (with a paint sprayer) for this type of DIY.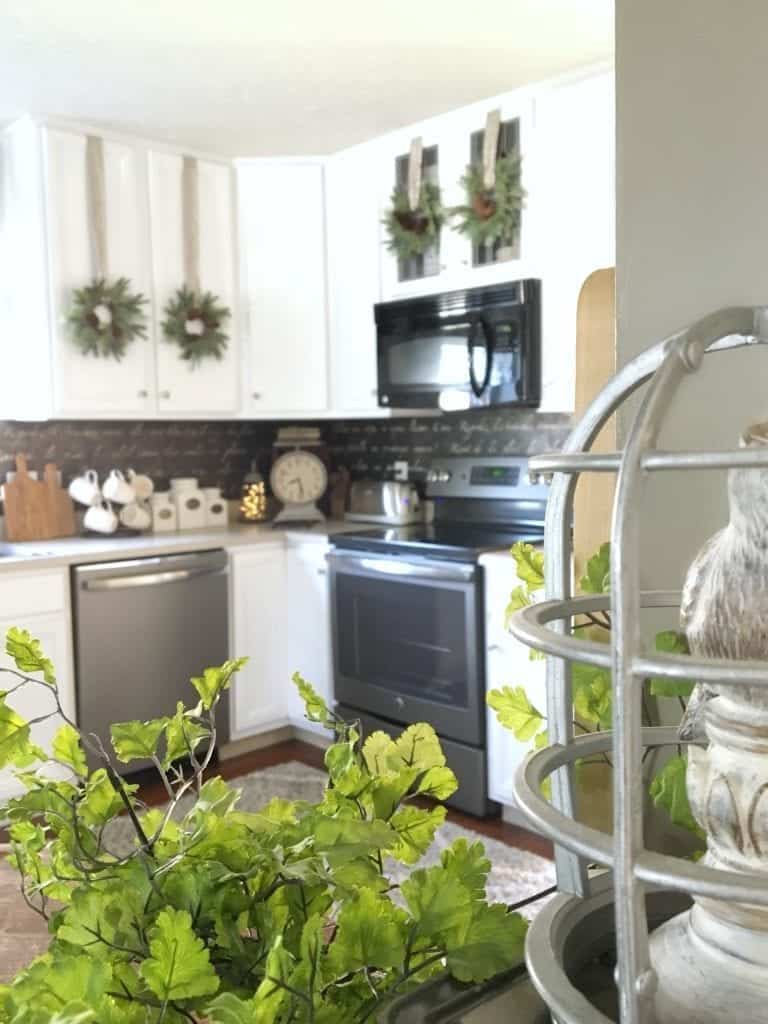 As many of you know, we chose to repaint our kitchen cabinets after our original paint job began to yellow and chip. My fingernail must have chipped the paint near a door handle after first. Eventually, that chip grew larger and larger. Then about a year later, I noticed our bright white paint started to yellow over time. Double whammy. I began to realize that I shouldn't have trusted a kit, and this DIY would not be a simple redo.
The paint kit I used back then made everything seem so simple. But, paint really shouldn't be that delicate. Should it?
Before I begrudgingly tackled this project again, I trusted my intincts and began to treat my kitchen like I do any furniture piece. Now that I've been enlightened, I'm sharing tips on what I think is the best approach for redoing kitchen cabinets —  the right way!
#1:  Don't Skimp on the Prep
Don't believe anything you read that over-simplifies the prep, or claims "no sanding" or "no priming" specifically for your kitchen cabinets. No-prep is not the route you should take for an important home improvement project like this. Your goal should be to create the best possible surface for the paint to stick, and kitchen cabinets are considered a "high use" area of your house (think grimy hands, spills, pots banging on the surface). You will need to create some "tooth" on the surface (in other words, they need to be slightly roughed up).  So you will be committing some time to this process — prep is where you will need to spend the most time if you plan to do this correctly.
I recommend the following steps:
Clean thoroughly with TSP
For the initial sanding, use an electric hand sander + 220 grit sandpaper to minimize grain texture. Wipe and remove dust.
Prime with Zinsser's Primer (two coats minimum,  lightly hand sand with a fine grit sandpaper between coats) 
Apply a stain blocker — prevents tannins from bleeding through.  
Using a fine grit sandpaper, lightly hand sand between coats
Spray your doors with a paint sprayer with a minimum of two

thin

coats of your final coat of paint. Light sanding between except final coat)
#2: Choose Durable Paint (that doesn't yellow)
Water based enamel paint offers a higher level of durability for highly used areas of your house, (just Google "enamel paint kitchen cabinets" and you'll see that a lot of experts agree). Another benefit? Water based paint doesn't yellow over time which is important if you're using a white (or light) colored hue like we did. I also wanted to avoid the extra step of adding a topcoat if possible. So this immediately ruled out chalk paint and latex. When I think of latex, I think rubber…and that's not far from the truth. It can expand, contract and peel. I'm very happy with the paint I chose because the paint is the final step. And, it's washable. So, should there ever be a paint chip mishap….I can do a simple touch up and I'm finished!  No need to sand and start over.
#3: Use a Paint Sprayer on Your Doors
I admit to being a little scared of my paint sprayer, so I practiced on my kitchen table before I tackled my cabinets with the Homeright Finish Max! (See my Facebook video as I learned how). So far, it's holding up beautifully. The result? Thin, strong layers. NO brush strokes…a professional, smooth finish.  And I'm a big believer in adding multiple, thin coats – this method offers the most durable finish possible. If your paint is too thick, it could result in peeling or chipping. Prior to this, I shared how I achieved a smooth finish on painted cabinets using a brush…it worked just fine for the stationary portions of our kitchen, including our island which is built in. But my honest opinion now? Nothing beats a sprayer for a smooth, even finish.  And, I'm giving away a Homeright Paint Sprayer and a Spray Tent! Keep reading for details.
#4: Think Outside-the-Box on Embellishments
In order to improve the visual appeal of our kitchen (but still remain on a conservative budget), we had to get pretty creative to make our cabinets prettier (without ripping and replacing them). Here are eight ideas for adding budget-friendly embellishments, including approximate costs: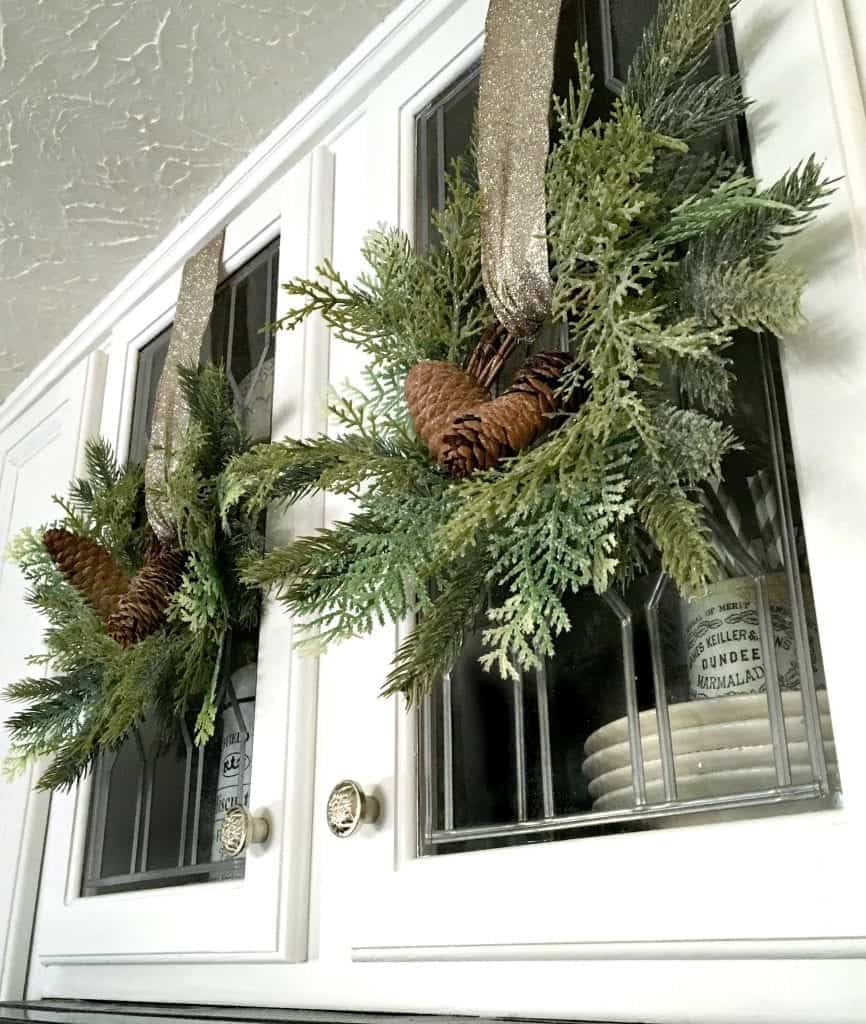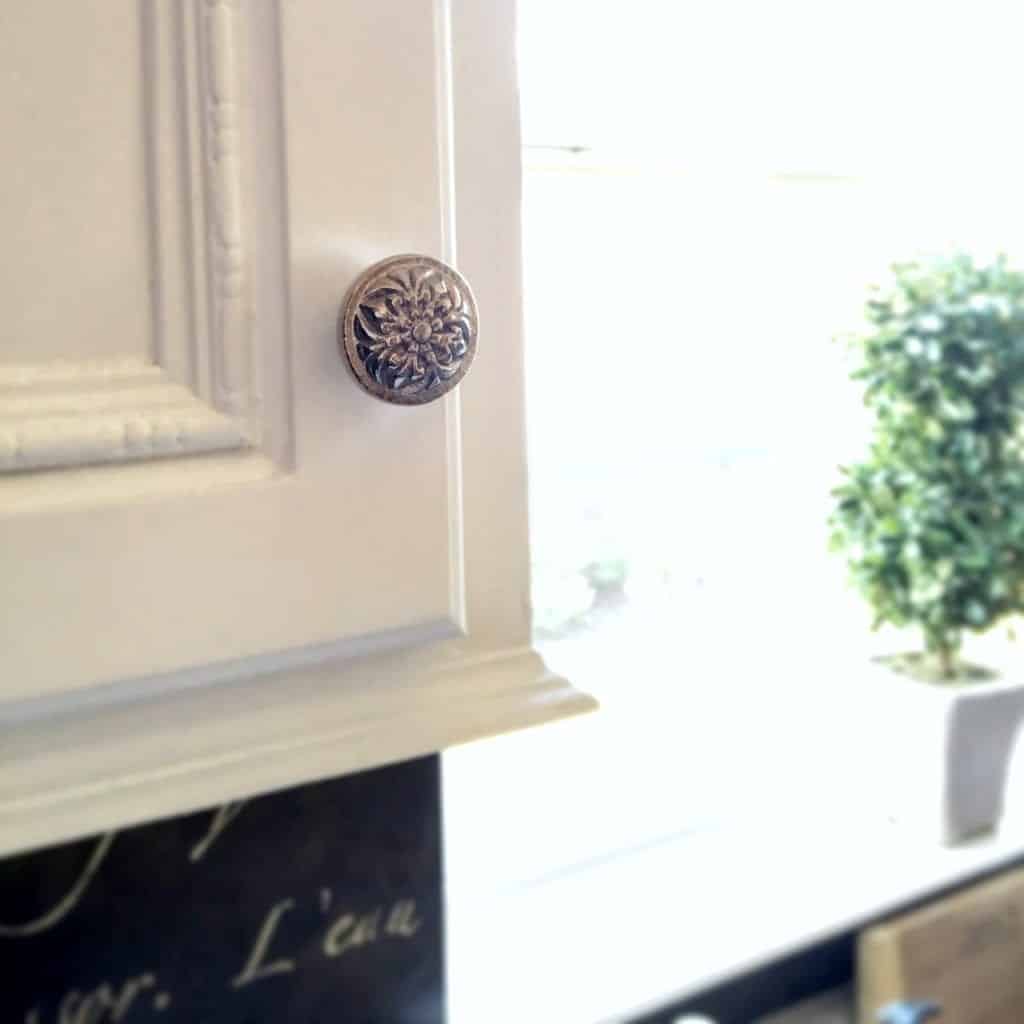 Pin it for later: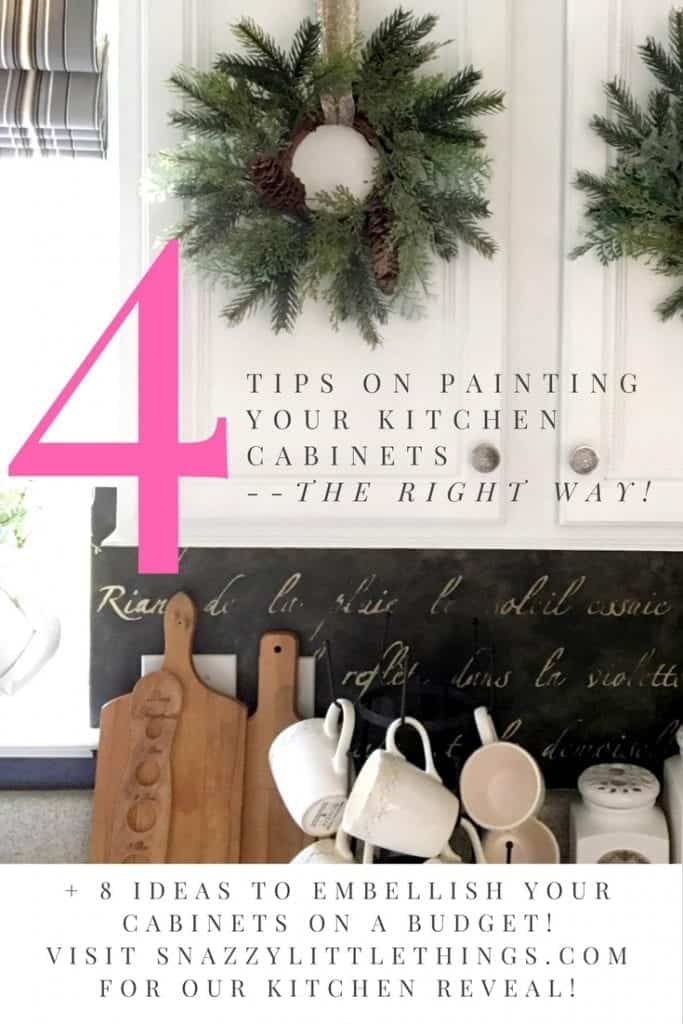 I received free paint and a Homeright FinishMax Pro Sprayer for this project. I was asked to test out DecoArt's new line of Americana Satin Enamel Paints. All additional purchases and content are on my own accord and reflect my personal opinion and style. You can read my initial review of DecoArt paints here.